Adobe Dreamweaver Training
Develop more web content, more quickly. A streamlined user interface, connected tools, and new visual CSS editing tools let you code efficiently and intuitively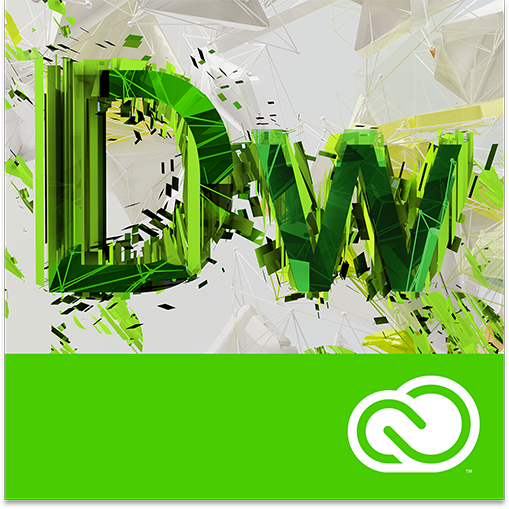 Duration: 4 Days
Related Courses: PHP MySQL, ASP with MS Access, Flash, ActionScript3
Adobe Dreamweaver CC is the industry-leading web authoring software, providing both visual and code-level capabilities to create and maintain standards-based websites and applications for desktops, smartphones, and tablets.
New and enhanced features help streamline your design and development workflow, build adaptive page layouts, and deliver content from one source to virtually any screens or devices
Pre-Requisites:
Basic computer skills.
Adobe® Dreamweaver® CC is the industry-leading web authoring program. Whether you create websites for a living or plan to create one for your own business, Dreamweaver offers all the tools you need to get professional quality results.
Introduction to
■ The Basics
■ Web Browsers
■ What is HTML?
■ Browser incompatibilities
■ Nesting tags
HTML structure
■ Global Structure
■ The HTML, BODY, HEAD, TITLE Elements
■ Creating an HTML Document
■ Basic Content Structure
■ Headings
■ Paragraphs
■ Lists
■ Horizontal Rules
■ Divisions
■ Line Breaks
Working with Links
■ Local Links and Navigation Bars
■ Remote Links
■ E-mail Links
■ Named Anchors (Bookmarks)
HTML Formatting
■ Block-level Formatting
■ Inline Formatting
■ HTML Entities
Using Colors
■ Websafe colours
■ Hexidecimal colour values
Working with Tables
■ Creating and Modifying Tables
■ Working Around Browser Inconsistencies
■ Formatting Tables
■ Table Headers and Captions
■ Spanning Rows and Columns
Creating Forms
■ Introduction to Forms
■ Applying Input Types (Buttons, Check Boxes, Radio Buttons etc)
■ Creating a Text Area Field
Using Dreamweaver
■ Understanding static page architecture
■ Introducing DreamWeaver, Device Central & Bridge
■ Using HTML code and page architecture
■ Learning the Interface and Interface elements
Define Local Site
■ Site structures, design and planning: Local, remote sites
■ Local sites
■ Root folders
■ Creating a local site -procedure
■ Cloaking
■ Files Panel
Web Page Creation
■ Web building basics
■ Creating a new HTML5 pages
■ Fluid grid layouts (CS6)
■ Real-time Multiscreen Preview(CS6)
■ New document -preferences
■ Page titles
■ Document Properties
■ Background colour /image
■ Page sizes/ view options
■ Enhanced Inspection Tools /Inspect Command
■ Live view
Working with Text
■ Structural elements: headers, paragraphs, line breaks
■ Horizontal rules
■ Coding content in Code View, refreshing
■ Lists
■ Special characters
■ Font sets
■ Quick tag editor
Working with Graphics
■ Embedding Images in a Web Page
■ The "alt" Attribute and Accessibility
■ Graphic Formats (GIF, JPEG, and PNG)
■ Using Graphics as Links
■ Using Background Images
■ Rules for using Graphics on web pages
■ Photoshop Integration
■ Inserting Images, image paths (relative vs. absolute)
■ ALT text and image properties
■ Linking Images
■ Rollover images
■ Editing images from DreamWeaver
■ Adobe Photoshop Smart Objects
Navigation Elements
■ Understanding site navigation
■ Linking to sites
■ Setting Targets
■ Creating links from images
■ Creating Named Anchors
■ Creating e-mail link
■ Creating a jump menu
■ Importing and using Fireworks Navigation bars (Fireworks students)
■ Image map Hotspots

Working with Tables

Cascading Style Sheet

Working with DIV's

Structuring Pages

Working with Forms

Frame Sets

Managing Head elements and Meta Tags

Site Attributes

Spry framework for Ajax

jQuery Mobile themes

DreamWeaver Templates

Site Management and Maintenance
" The problem is there are no simple 'right' answers for most Web design questions (at least not for the important ones). What works is good, integrated design that fills a need – carefully thought out, well executed, and tested "
Steve Krug
"Adobe Certified Experts and Adobe Certified Instructors will lead you through industry state-of-the-art, highly-efficient workflow procedures to get your jobs done in the right way. Skillz ME training courses are conducted by Adobe Certified Experts and instructors with years of industry knowledge, experience and skills at their hands."
Request more Information or book a Training
Useful Links

 Adobe Dreamweaver CC product homepage
click here

 Adobe Dreamweaver developer community forum
click here

 Facebook fan page of Adobe Dreamweaver
click here