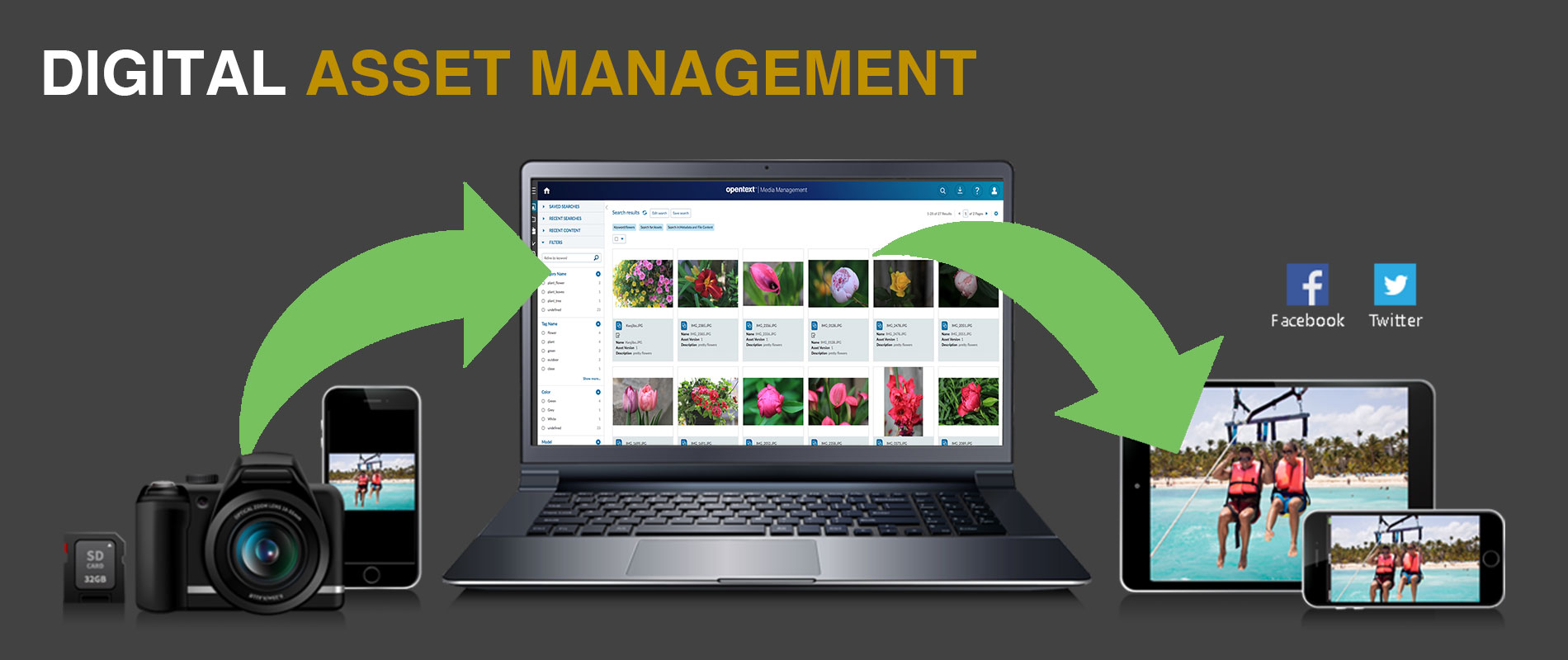 Digital Asset Management
Organizations are challenged in today's economy with all their visual content like photos, videos, and other media formats. They simply can't control the usage of the files, know who is having them, who shared them with who or simple, who paid on Adobe Stock or Shutterstock for the license.
Working 7 years with Adobe I was always inspired by my creative co-workers and the endless possibilities of Adobe Creative products. However I meet a lot of people crying of losing their creative work by broken harddrives, lost USB sticks and stolen laptops.
Dieter Hovorka
What is a Digital Asset Management (DAM)?
Digital Asset Management (DAM) help organizations to save money when it comes to working with photos, images, audio, videos, and other media formats.
It offers a single point of access to find all your logos, photos, graphics, purchased stock images and other media files when you require them.
It extends your organization to easily work with media files and keep control of authorization processes, review processes and an archiving process of your mission-critical business media files.
Compared to file servers and file sharing services a DAM allows you to easily find your photo based on business relevant information like, who is in the photo, where was the photo taken when was it used last time or simple is it still in use.
Business Challenges
Growing amount of photos and videos, growing formats
Your organization is growing so does the volume of your photos, videos, and other media.
Your IT department is continuously challenged with new larger formats.
You lose time
You have photos scattered in several offices and locations.
You waste time and energy finding the photo or image to be used by multiple departments.
You have used different logos and photos for social media and web presence.
You spend a lot of money
You pay license violations because you forgot to track them.
You pay a lot of money for courier costs to share your images with your print house.
You lost or your CD/HDD or USB drive broke
You lose many valuable photos and videos which you cannot be located and need to be recreated
Business requirements
Ideal organizations want to reduce the risks and challenges having with audio-visual content (photos, videos, …) and make sure their brand is reflecting the same image across all digital channels like the website, digital advertisement, social media, partner channel websites, electronic billboards or even print media. Digital Asset Management solution allows companies to easily, securely and cost-effectively manage, store and use digital assets (like photos, videos, images, fonts, …)

  Protect your photos, videos and brand material (Digital Assets Library)

  Locate assets per date, per source, per title, per contact etc with a sophisticated Search engine

  Give access to your partners to Digital Assets providing collaboration while having full control over access limitations

  Share and review large files without the need to download or upload

  Get both Media Creators and Media Users work on a single platform for a single final version

  Track your digital assets used and shared internally and externally
In a brief you want a DAM solution that helps you find, share, collaborate, use and re-use digital assets anywhere, for richer, more effective communication throughout your organizations and partner network.
Digital Asset Management Solution – How We Help Our Customers
We live in a hyper-connected world which is dictated by audiovisuals all over. From our simple website to the mobile app, social media or social commerce we consume on daily base more and more audio-visual content. Companies have to transform their product and services offerings to be presented on a global scale in a digital environment.
Using a Digital Asset Management solution, customers can improve their:

  Store and manage digital assets, including video, audio, graphics, and iconography – across local drives, file shares, and legacy DAM systems – through a single, managed repository to easily retain, reuse and secure assets.

  Supports the digital asset lifecycle process for business, marketing and digital transformation initiatives for e-commerce, global-branding and media distribution. Delivering relevant customer experiences across multiple channels for cost-savings and productivity gain.

  Production and publishing capabilities for creating and using digital content, localizing and transforming content, maximizing exposure and interacting across any device or channel – digital and physical – for purposeful, intentional branding, identity and customer experiences.
The digital asset management solution helps users to find what they need, work efficiently together and use digital assets anywhere for more effective communication and rich experiences in marketing, sales, e-commerce and the whole business.
In summary, a Digital Asset Management lowers your TCO (total cost of ownership) and enables you for a quick ROI (return on investment).
Digital Asset Management in Marketing
CMO's (Chief Marketing Officers) are benchmarked and challenged with a fundamental change in their understanding of their audience: Today's clients are socially organized, very much educated, and offered energy to/allowed the capacity to communicate specifically with peers not tied to a specific profile, channel, or time zone.
To get involved with these clients, marketing organizations need to approach client relationship administration (CRM) in an altogether different manner that secures brand sustainability and development and drives client loyalty while taking advantage of marketing return of investment (MROI).
Digital Asset Management for business Solutions empowers compelling worldwide marketing by enabling the entire enterprise to share and repurpose resources, while supplementing marketing resource management (MRM) frameworks to make quicker and more effective general advertising operations. Together, Digital Asset Management and MRM complete the instrument to oversee costs and quicken the viability and execution of marketing programs.
Digital Asset Management in Communications, Media, and Entertainment
Digital Transformation is happening at an ever-quicker pace and putting pressure on the distributing and CME (correspondence, media, and excitement) enterprises. Distribution channels and media are no longer in a simple coordinated way or one-to-numerous connections and furthermore no more one-path, rather it is all open and multi-directional which we can call B2C, B2B or sometimes C2C or P2P.
Business adaptability is essential and necessities an adaptable and comprehensive environment that enhances generation, administration, and distribution to drive monetization of digital media assets resources.
Digital Asset Management enables Media associations to administer resource use work processes, pick up understandings to monetization potential, and drive business innovation that conveys separated media products.
Implementing a Digital Asset Management saved our company 3 million dollars on licenses costs not violating copyrights of photographers. Retailer, Dubai
It takes me only 10 sec to find the right Photo or Video with the right content before we spend 10 days searching. Financial Institute, Abu Dhabi
Sharing assets across locations and departments is easy and saves  yearly $ 1,500,000 on courier costs Global Group
We manage our external partners with an easy electronic delivery and controlled access, we achieve 100% time-to-market. Global Brand Leader