Adobe After Effects Training
Adobe After Effects training for the Middle East. Certified Instructors based out of Dubai are happy to assist in the most valuable asset in your organization, the Human Resource. Talent development is one of the most critical elements of a successful organization. Adobe After Effects is a digital visual effect, motion graphics, and compositing application developed by Adobe Systems and used in the post-production process of filmmaking and television production. Among other things, After Effects can be used for keying, tracking, compositing, and animation.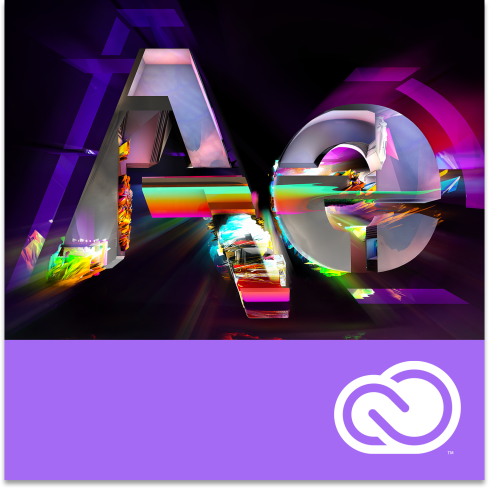 Duration: 3 days
After Effects Training addresses beginner and intermidiate audience to attend. 
Course Overview and Objectives
After Effects CC software lets you deliver cinematic visual effects and motion graphics faster than ever before with new Global Performance Cache. Extend your creativity with built-in text and shape extrusion, new mask feathering options. Get into motion graphics – come learn what After Effects CC can do!
Pre-Requisites
Practical working knowledge of Mac OS X or Windows
After Effects Training  Basic Course Outline
Lesson 1: Fundamentals of Motion Graphics
RGB Color Model
Frame Size
Resolution
Pixel Aspect Ratio
Alpha Channels
Frame Rate
Time Code
Interpreting Footage
Lesson 2 After Effects Training: Getting to Know the Workflow
How After Effects Works
Overview of panels
Creating a project and importing footage
Creating a composition and arranging layers
Adding effects and modifying layer properties
Animating the composition
Previewing your work
Optimizing performance in After Effects
Customizing workspaces
Controlling the brightness of the user interface
Finding resources for using After Effects
Lesson 3 After Effects Training: Creating a Basic Animation Using Effects and Presets
Importing footage using Adobe Bridge
Importing video clips
Importing stills
Importing a sequence of stills (interpreting)
Importing multilayered photoshop and illustrator files
Creating a new composition
Applying effects to a layer
Changing parameters globally
Creating keyframes
Keyframe interpolation: auto, continuous, and bezier interpolation
Temporal and spatial Interpolation
Roving in time for spatial properties
Creating and applying an animation preset
Previewing your work
The main prank that we play with props is for people's birthdays. The special effects people will put a little explosive in the cake so it blows up in their face – that's always fun to play on a guest star, or one of the trainees or someone who's new.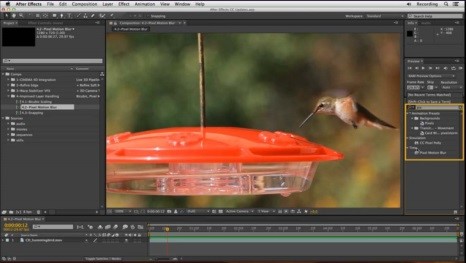 Pixel Motion Blur
Add or enhance motion blur for moving objects in live footage and rendered scenes. You can use this effect to add realism, exaggerate movement, match shots, and make stuttery footage easier to watch.
Lesson 4 After Effects Training: Working With Masks
About masks
Creating a mask with the Pen tool
Editing a mask
Feathering the edges of a mask
Replacing the content of the mask
Mask interpolation
Using masks from Illustrator and Photoshop
Masks for spatial keyframes
Lesson 5 After Effects Training: Animating Text
About text layers
Creating and formatting point text vs paragraph text
Using a text animation preset
Text on a path
Animating imported Photoshop text
Animating text using a path animation preset
Using a text animators
Adding properties
Adding a range selector
Using a text animator group
Lesson 6 After Effects Training: Working with Shape Layers
Adding a shape layer
Creating custom shapes
Creating stars
Default properties of shape layers
Add properties
Creating Groups
Stack your shapes & properties
Using Brainstorm to experiment
Lesson 7 After Effects Training: Other Effects
Time remapping
Motion sketch
The smoother
The wiggler
Auto orient
Splitting a layer
Adjustment layers
The effects and presets panel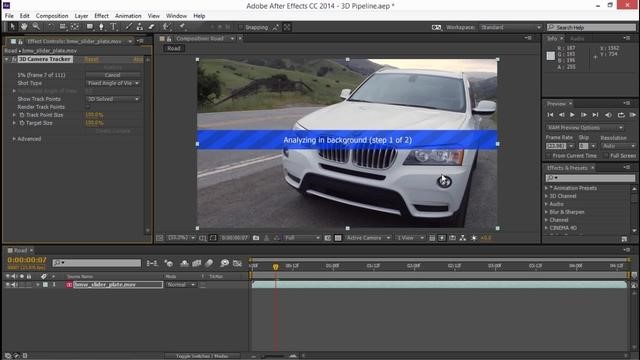 Adobe After Effects CC includes a fully integrated 3D pipeline between After Effects and Maxon Cinema 4D Lite that motion graphic artists and animators can use to insert 3D objects directly into an After Effects scene without pre-rendering passes or complicated file exchanges
Lesson 8 After Effects Training: Distorting Objects with the Puppet Tools
About the Puppet tools
Adding Deform pins
Defining areas of overlap
Stiffening an area
Animating pin positions
Recording animation
Lesson 9 After Effects Training: Rendering and Output
Creating templates for the Render Queue
Exporting using the Render Queue
Rendering movies with Adobe Media Encoder
Lesson 10 After Effects Training: Parenting
Understanding Parenting
Simple Pickwhipping
Parenting to a null
Using Parenting for positioning
Using Parenting in Special Effects
Lesson 11 After Effects Training: Other Effects
Time remapping
Understanding Compound Effects
Gradient Wipe
Displacement Map
Lesson 12 After Effects Training: Transfer Controls
Understanding Layer Blending Modes and how to change those using
shortcuts
Using Track Mattes
Understanding precomposing and nesting
Stencil and Silhouette
Preserve Transparency
Learn Adobe After Effects today and make the choice of in-house After Effects Training for your team, or Workshop for the newest features or just this outlined basic After Effects Basic Training.

"Adobe Certified Experts and Adobe Certified Instructors will lead you through industry state-of-the-art, highly-efficient workflow procedures to get your jobs done in the right way. Skillz ME training courses are conducted by Adobe Certified Experts and instructors with years of industry knowledge, experience and skills at their hands."
Contact Us
Get Into Action, call our experts today, Dubai - UAE +971 56 101 24 80 or send an email to info@skillzme.com or request a callback
Useful Links

 Adobe After Effects CC product homepage
click here

 Skillz Middle East complete Training overview
click here
Adobe After Effects vs Adobe Premiere Pro – YouTube
What is Adobe After Effects (October 2017)