It is always the question in a lot of organizations. Where does the creative team report to, where does their budget come from, how do costs get replicated to actual client job cards? In the 2018 survey of over 400 in-house creative teams in agencies, the questions get highlighted and answered. 
Skillz Middle East makes Digital Transformation happening for your company. We focus on the quick win to ensure Digital Marketing, e-learning, Web Meeting, Web Conferencing, Digital Signature, Digital Asset Management are ready to enhance your organization. Digital Marketing shall save money and bring a more efficient conversion for your brand and products.
The 2018 In-House Creative Industry Report by Cella The BOSS Group looks into the creative departments and compiled a summary of the report which we illustrated in the infographic below. Let's have a quick look at the most important findings in the survey.
Department Organization
83% of responding creative leaders indicated their department reported through a strategic, value-adding department such as marketing, communications, advertising, brand or some combination of those divisions. When the creative team is positioned within one of these divisions, the organization is more likely to be considered strategic and value-adding. In contrast, when a creative team reports through a shared-services division, the department is often viewed as a commodity, which makes it more difficult to succeed in becoming a strategic partner. It is possible to overcome the disadvantage of not being aligned with the marketing (or alike) department; it just requires the creative team to create a brand for itself outside of its "home".
Leaders of in-house groups regularly face ongoing competing priorities, leaving them without adequate time to develop their leadership teams. It is important that leaders prioritize professional development for themselves and their direct reports to ensure the ongoing growth and success of the team members and group.
Q: Into which division does your creative team/in-house agency report?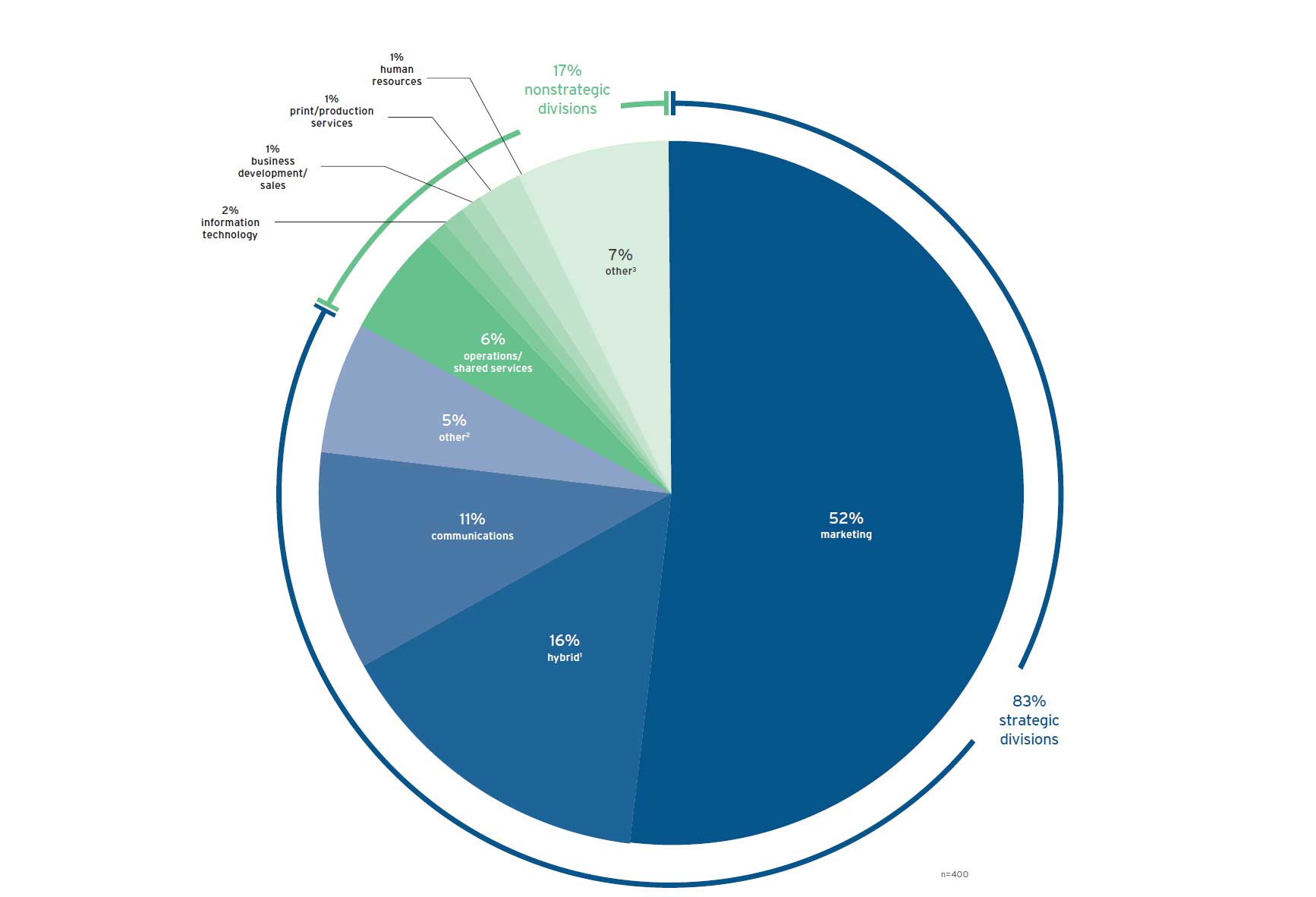 1 Hybrid of two or more: advertising, brand, marketing, communications and/or sales
2 Other includes advertising, brand and public affairs
3 Other includes but is not limited to: R&D, procurement, legal, finance, misc. executives
Department  Funding
Regardless of an in-house agency's financial model, proving the group's value is a constant expectation. Tangible results stem from managing your group's budget and demonstrating cost savings against external agencies, in addition to providing on-time, high-quality creative.
Instituting a chargeback funding model is a natural evolution for an internal creative organization and an important step in eliminating a number of challenges common to "free" creative services. Typically, this shift is due to several factors, including department size, project volume/workload, resourcing and competition with outside agencies. This evolution requires many organizational changes that include standardization of processes and procedures, internal marketing activities, realignment of resources and improved project management. Moving to a chargeback model signals the team will operate more like a creative agency in both business operations and creative direction.
Being a cost center (non-chargeback department) can be a great thing, the creative leader can focus on the value of the creative that his or her team is creating and won't be burdened by financial pressures. However, the most significant challenges for non-chargeback departments still remains affecting client behaviors.
Q: Have you ever been asked to provide a cost comparison between your in-house team and comparable external agencies?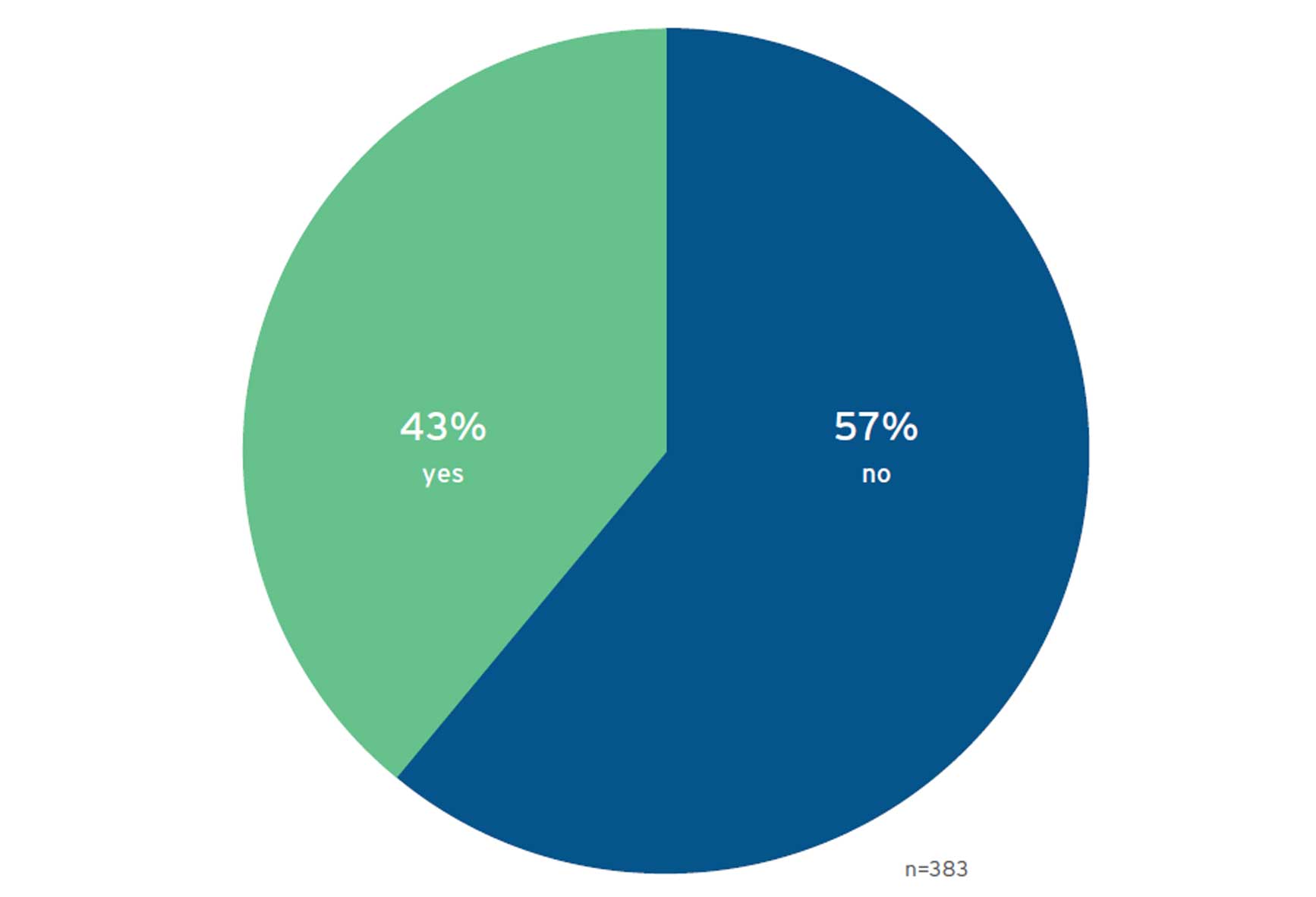 The smaller a creative team/in-house agency, the more likely they are to not charge back. Case in point: only 27% of departments with fewer than 30 team members charge back,whereas 65% of teams over 50 charge back.
Department Resourcing
Creative leaders must be careful in demonstrating a desire to grow their team. Too often a desire to grow a team can be viewed as "empire building;" leaders must be prepared to substantiate headcount requests based on business need. In addition, leaders need to be prepared to promote the adoption of new processes and tools to support the growth in order to grow in a mature, scalable manner.
Ensuring you're appropriately staffed is a constant balancing act creative leaders face on a day-to-day basis. Flexible staffing models and principal partnership agencies continue to provide creative teams and in-house agencies support during peak periods without increasing staff size. Including a budget that allows for flexibility is critical — in fact, your budget may be better spent in not hiring an FTE and instead using the same funds to pay several temporary workers during peak periods.
Q: What is your perception of the available talent in the marketplace right now?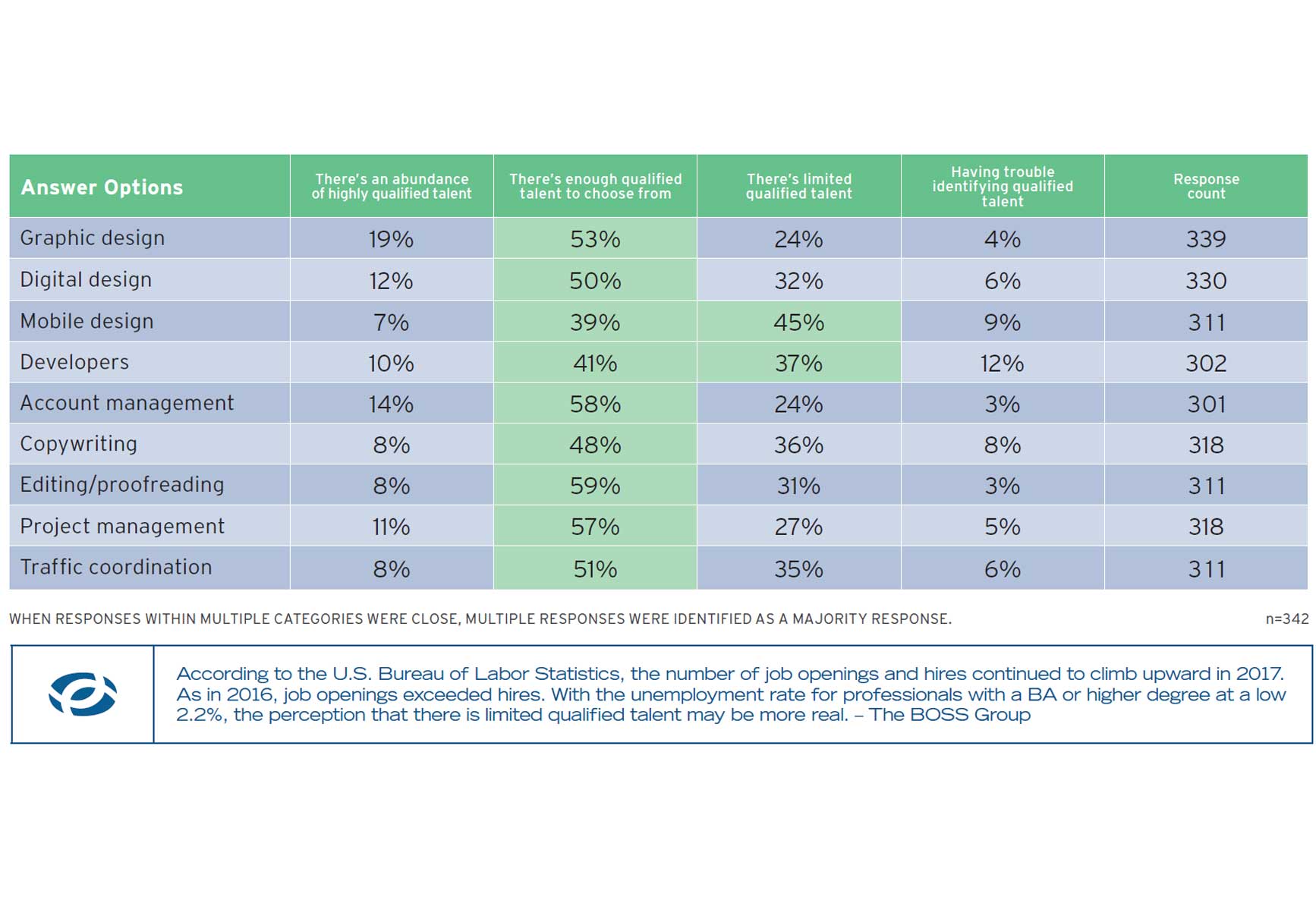 Service Offerings
The number of projects creative teams and in-house agencies produces annually is loosely linked to their size. While it's interesting to discuss volume in terms of the number of projects, it's not an apples-to-apples comparison across organizations. Service offerings continue to evolve and expand, providing growth for creative teams and in-house agencies. However, new complexities require specific expertise and skill sets. Volume in its truest form should be discussed in terms of the number of "billable" or "utilized" hours per year. In addition, the various complexities in the work itself are not captured under project count and are better evaluated with hours in assessing the level of effort put into the project.
Core Competencies
Staying current with, let alone ahead of, the growing complexities of our ever-evolving service offerings opportunities is no easy feat. Determining which service offerings to expand into is a process, and you shouldn't set your team's goal to "be everything to everyone." Be selective in your core competencies and stick to them, regularly reevaluate them and adjust as needed. Don't
be afraid to identify work to be outsourced to third parties. There is still value in your team art directing and project managing projects; creative execution of all media types doesn't have to be within your core competencies.
Q: What is the % of team hours spent on digital projects vs. print projects?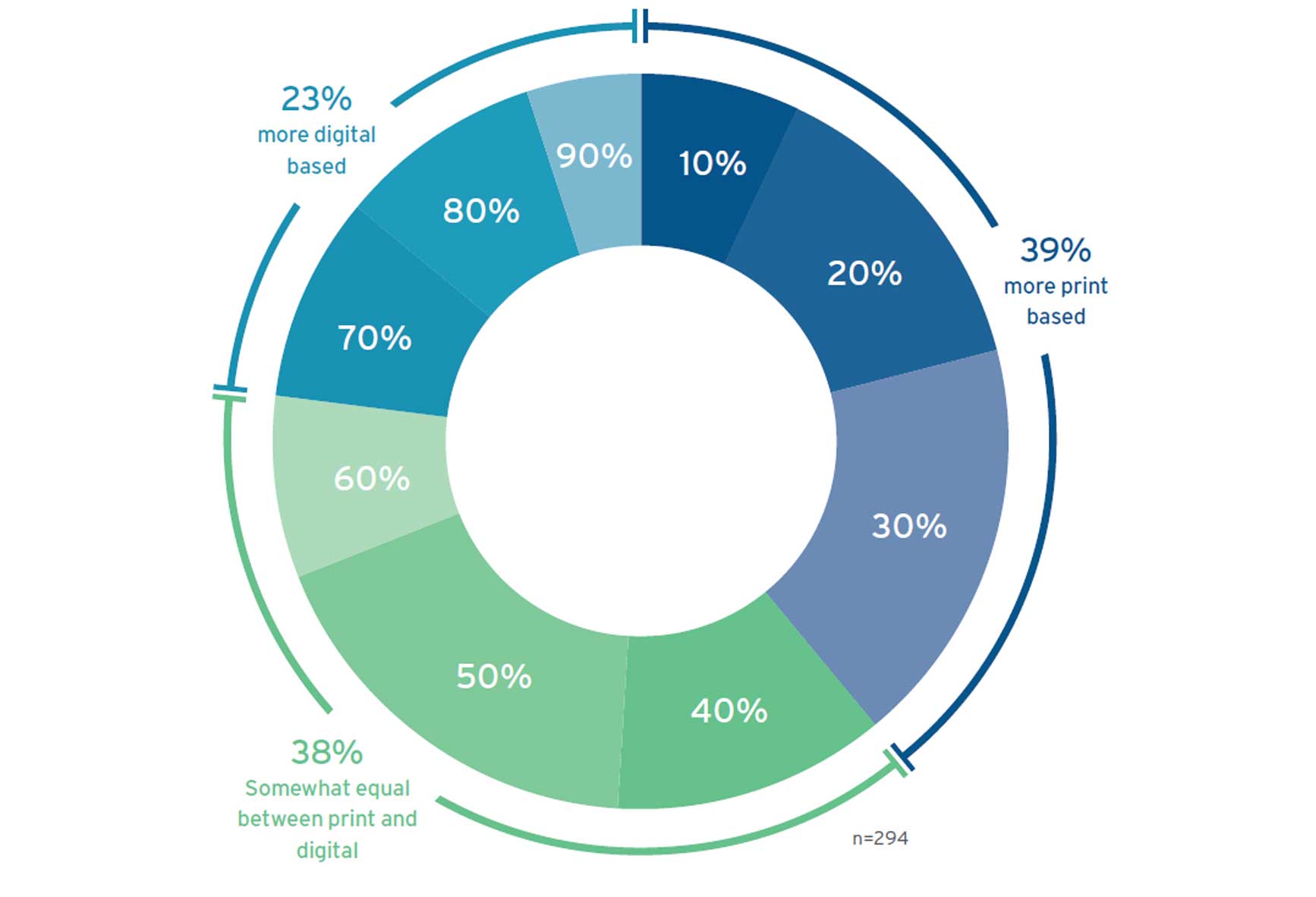 Partnerships
Partnering with agencies is often in the best interest of the business or organization and your internal team. So as a leader you must work to take away the fear of bringing in outside expertise and embrace the possibilities. It is difficult to do everything on your own. Beyond simply sharing the workload, there are other key reasons to further agency relationships, including keeping up with a dynamic business environment, "integrated" creative excellence, career development for your team and efficient delivery.
Global Operations
Firms are taking two approaches with global operations. Some teams are choosing to use a global approach in low-cost markets to take advantage of cost savings and offer a more "24/5" approach, while others are serving global creative needs by positioning their teams in global offices close to their customer base.
For in-house groups with multiple locations, tactically evaluating the benefits and drawbacks of each location's operations is critical. Most commonly you will find trends demonstrating a need for brand continuity, increased cost savings, which leads to shifting more capabilities and roles to a lower-cost labor market, either domestically or internationally.
Following are challenges to prepare for with global operations:
Technology: Remote teams often experience slowness in the shared network, which is something that may not be able to be improved.
Process: There is a critical need for effective and efficient project hand-offs across locations. Communication of project details and creative direction is a constant challenge.
The clock: Depending on the global locations, short or nonexistent time zone overlaps create hurdles in connecting and clarifying, which in turn can negatively impact turnaround time.
Values & Challenges of In-House Teams
Many creative groups stand on the value proposition of being lower cost (whether that is free or a charge back rate that is lower than agencies), and while that value will open doors, it won't keep them open. It's extremely important that creative leaders identify and preach the team's value outside of cost. Institutional knowledge and shared company values and goals are other highly recognized values of an in-house group, with the greatest value being brand knowledge.
Almost regardless of industry, company size and team size, the challenges of creative leaders are very consistent. Year over year, affecting client behaviors remains the greatest principal challenge. Resourcing, innovation and skill sets are also top challenges. Ensure your group's value proposition by proactively creating a strategic plan with these challenges in mind.
Creative Leader
Though 74% of in-house creative leaders are mostly or extremely satisfied in their current roles, almost half responded that career pathing for themselves and their teams is one of their greatest challenges. It's not surprising to learn that almost 30% of creative leaders aren't confident in the job market for roles similar to the ones they are in.
Although creative teams and in-house agencies are on the rise — both in size and number — there still isn't an abundance of them, let alone open senior roles. So for the 61% of leaders who responded that their next career move could most likely be another in-house creative group, they may be looking at relocation or alternative options.
Summary – Survey Participant Demographics
Survey responses were filtered to represent only responses by in-house creative leaders. To identify leadership-level responses Cella filtered titles per the chart below. Responses were further narrowed down to eliminate duplicate responses and ensure one unique response per company and/or each in-house agency residing within an organization. See the summary infographic below and read the complete report, the link can be found below.