Enterprise Content Management (ECM) is changing to further help organizations succeed as digital enterprises. This shift to Content Services Platforms offers innovative opportunities to extract more value from the increasing volumes of information enterprises control.
OpenText 12 years a leader in ECM Gartner MQ. And still a trailblazer
We know and love OpenText as one of the pioneers of ECM (Enterprise Content Management Systems) over many decades. Also not to forget that OpenText is leading the pack when it comes to DAM (Digital Asset Management) with their OpenText Media Managment software.
How can your organization benefit from the shift?
It starts with finding a trusted partner who understands enterprise information management. After 12 years as an ECM Magic Quadrant leader, OpenText has now been named a leader in the new Gartner Magic Quadrant for Content Services Platforms. OpenText understands the challenges of managing your ECM platform and how to realize the potential of content services.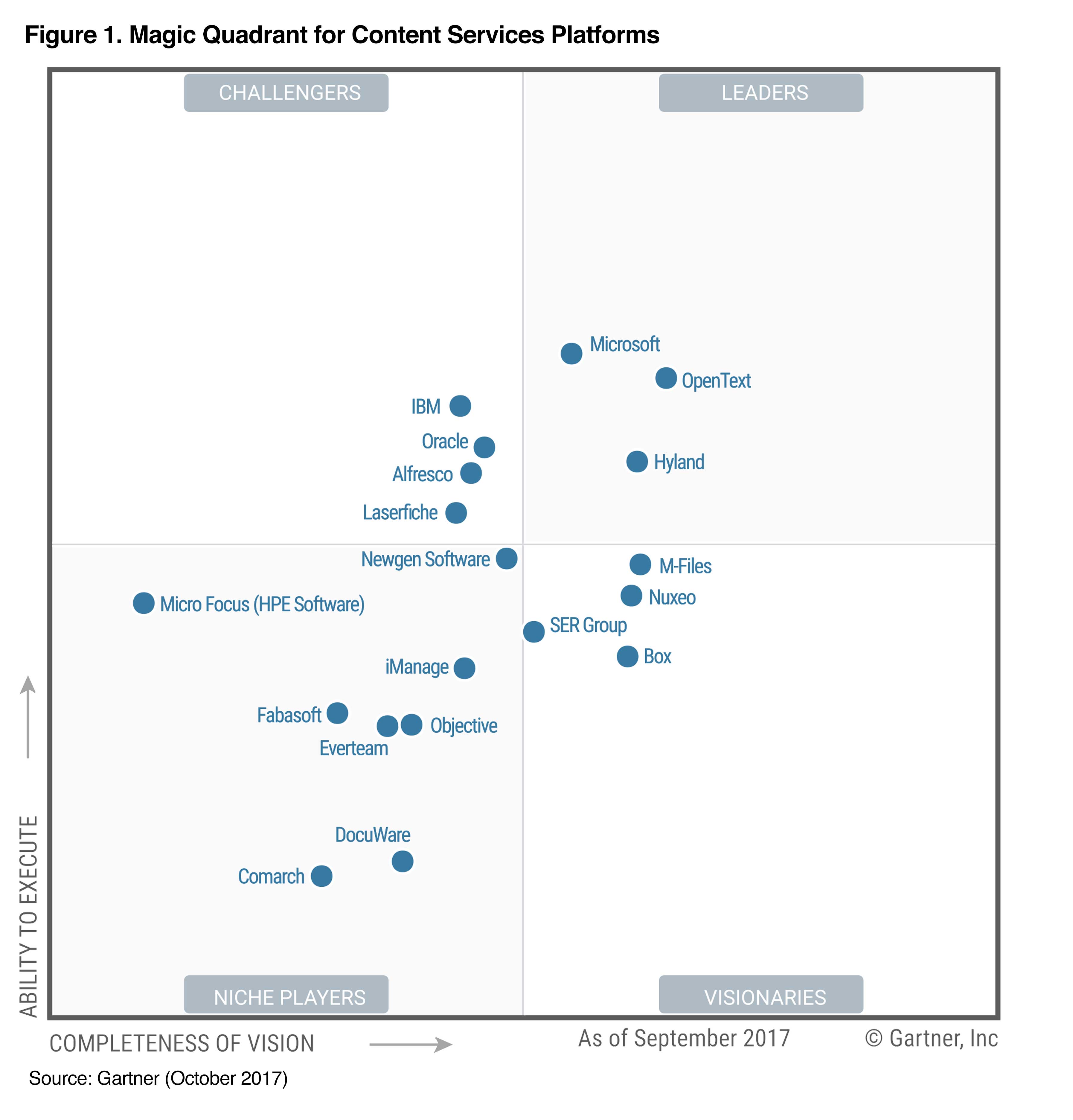 Cloud, social collaboration, mobile and analytics technologies have transformed demands and expectations for content in digital business. The variety and volume of content continue to grow. So does its importance: increasingly, IT and business leaders use content to complement or even drive digital business processes.
Content technology markets are evolving toward three areas: platforms, applications and components. This Magic Quadrant addresses the next stage in enterprise content management (ECM): the ECM market is now the content services platform (CSP) market. As a result, there are changes in how we define and analyze this market.
Gartner's new definition for this market is as follows:
A content services platform is a set of services and microservices, embodied either as an integrated product suite or as separate applications that share common APIs and repositories, to exploit diverse content types and to serve multiple constituencies and numerous use cases across an organization.
Content Services Platforms vendors are recasting ECM in terms of a service-oriented architecture. This core is the basis of an integrated set of content-related services (and microservices), repositories and tools that can be easily extended and adapted. A CSP has the flexibility to support existing and emerging content use cases. It has its own repository but should also be able to integrate external repositories through connectors, APIs or packaged integrations. Today, many CSPs can be deployed on-premises, in the cloud or in hybrid architectures.
A Content Services Platform is characterized in part by the breadth of its support for content types and formats over the entire content life cycle. Key capabilities include:
·        Capturing and ingesting content in digitized formats, including scanning, content migration, user-created content or autogenerated content.
·        Managing and retaining digitized content and associated metadata, including content associated with systems of record, file sync and transfer, search and findability, and metadata management.
·        Processing digital business content, including developing workflows, and integrating with enterprise systems and data, line-of-business (LOB) processes, and purpose-focused applications.
·        Improving user productivity through more-effective finding and use of digitized content in digital business initiatives.
·        Providing platform services that combine integrated, content-related services and microservices, repositories, publicly available APIs for application integration, and administrative tools.
·        Providing platform services that combine integrated, content-related services and microservices, repositories, logical information layers, and centralized administration of services and management tools.
·        Integrating and extending the platform, content and interfaces to commonly used productivity, LOB and ERP systems through publicly available APIs for application integration, multi-repository support, data integration extensions and out-of-the-box connectors.
OpenText and Content Services Platforms
OpenText, based in Waterloo, Ontario, Canada, has a large content and information product portfolio comprising content services, BPM, analytics and customer experience management. OpenText offers two CSPs — its long-standing Content Suite and Documentum, which it acquired in early 2017 from Dell EMC.
OpenText's CSPs can be purchased in a variety of deployment options: on-premises (OpenText Content Server or Documentum Platform), as managed hosted services (OpenText Cloud) or as multitenant SaaS services (OpenText Leap). Complementary Documentum content products include D2 for document management, Captiva for capture, Records Management, Information Rights Management, Kazeon file intelligence and xCP for workflow. The vendor has a global reach and penetration into most industry verticals, and Documentum brings specific strength in the life sciences market.
OpenText is a match for firms looking for expansive content services that meet numerous use cases, and for business processing of unstructured content.
STRENGTHS
OpenText's dominant market share, professional services capability and extensive partner network make it an obvious CSP candidate for organizations that want a proven and trusted partner, which can address a broad range of horizontal and vertical requirements.
OpenText has invested heavily in embedding CSP capabilities within common line-of-business and productivity applications, creating a contextualized user experience. Its partnership with SAP, in particular, created many deep integrations that let SAP customers easily exploit content capabilities.
Reference customers rated OpenText highly for its integration capabilities, including a large range of prebuilt adaptors, and for the breadth and capabilities of the platform's APIs.
CAUTIONS
Gartner clients have expressed concerns about OpenText's management of maintenance contracts — specifically a move toward performing license audits that could result in an increase in annual maintenance costs. Prospects and customers should pay careful attention to contract terms during negotiation and be prepared to work regularly with OpenText to ensure compliance.
The vendor's CSP portfolio consists of many disparate products, some of which have considerable overlap and could confuse prospects about an optimal solution path. Prospects should review OpenText's product roadmaps to ensure they meet their use case requirements.
OpenText solutions can be complex to configure and deploy. The typical time scale to complete an OpenText implementation is among the longest of the vendors surveyed for this research. (Note: This longer time scale is also partially attributed to the scale and scope of these deployments.)
Market Overview
The content services platform (CSP) market — formerly tracked by Gartner as "enterprise content management" (ECM) — is marked by big changes, including:
The rise of a new market leader, OpenText, unseating IBM because of its acquisition of Dell EMC's ECD products (Documentum, Leap and InfoArchive).
The sale and divestiture of long-term CSP (ECM) products, such as Lexmark Perceptive to Hyland.
Increased traction and influence of cloud office and content collaboration platform (formerly enterprise file synchronization and sharing [EFSS]) vendors, which are now competing in the document management business.
Continued healthy expansion of the market: 8% growth from 2015 to 2016, with global revenue up to $6.1 billion from $5.6 billion as content-related processes increasingly are digitized.
Market concentration of the top three vendors, which account for 43% of the market combined. A group of "Others," comprising over 1,000 vendors worldwide, takes the No. 1 market share slot with 29% of the market.
Gartner expects the CSP market to continue to be dynamic and innovative as well as show growth, even though some other related but newer markets, such as content collaboration platforms, are expected to grow faster.
This graphic was published by Gartner, Inc. as part of a larger research document and should be evaluated in the context of the entire document. 
Gartner does not endorse any vendor, product or service depicted in its research publications, and does not advise technology users to select only those vendors with the highest ratings or other designation. Gartner research publications consist of the opinions of Gartner's research organization and should not be construed as statements of fact. Gartner disclaims all warranties, expressed or implied, with respect to this research, including any warranties of merchantability or fitness for a particular purpose.
Digital Transformation is today a mandatory discipline in organizations with the right information management strategy.