It was maybe the year of the Crypto Spenders with massive movements, the rise and fall of Bitcoin, and many others. New things arrived on the scene like NFTs. Time to look back and look at how we can track the transactions of the major Cryptocurrencies on the market. 
As cryptocurrencies have grown in value and popularity over the years, transaction counts have steadily increased across the Bitcoin, Ethereum, and Litecoin blockchains.
With a growing base of holders, cryptocurrencies are steadily proving themselves as a medium of exchange. In 2021, approximately $12 billion are transferred across the Bitcoin, Ethereum, and Litecoin blockchains by millions of people spending with cryptocurrency on a daily basis.
What do we want to know?
What is behind the hype and what are the key elements to understand.
Blockchain Technology – Blockchain is a decentralized, distributed ledger technology that records transactions. Cryptocurrencies work using this technology.
Understanding Cryptocurrency – A cryptocurrency is a digital currency, which is an alternative form of payment created using an encryption algorithm.
How To Trade In Cryptos – A Crypto Exchange is just like a stock market.
What Is Crypto Wallet – A cryptocurrency wallet is a device, physical medium, program or service which stores the public and/or private keys for cryptocurrency
Aggregated Daily Transaction Count of Litecoin, Bitcoin and Ethereum transactions per day:
In 2016, daily transactions were under 250k across the three networks.
By mid-2017 transactions reach over 500k as Ethereum (ETH) overtakes Bitcoin's daily transaction count, ETH was necessary to participate in ICOs (initial coin offerings).
Today the three networks process around 1.5 million transactions per day.
With smart contract functionality, Ethereum has attracted a large number of decentralized applications and transactions on its network. With crypto users transacting more than ever, merchants are reaping the rewards of accepting cryptocurrency:
40% new customer sales on average.
2x higher order value on average.
55% reduction in transaction fees.
Crypto Spenders are Searching for Merchants
As more consumers switch to spending their cryptocurrency, businesses will flow to crypto-accepting merchants.
Cryptocurrency owners see the adoption of more and more merchants adoption as a key barometer of success for crypto adoption. While companies like AT&T, Starbucks, and Microsoft already accept crypto payments, there are still many businesses around the world that don't offer cryptocurrency as a method of payment. Also, governments are on the move, in September 2021, El Salvador became the world's first country to make Bitcoin an official currency. 
The infographic was provided by CoinPayments, visit CoinPayments to start accepting crypto today. In 2021 the development of the price for cryptocurrencies was amazing. Alone Dogecoin raised by 7555% in 2021, Maker plus 760%, Etherum plus 324%, Dash plus 198%, Litecoin plus 115%, and Bitcoin +113% – source CoinDesk.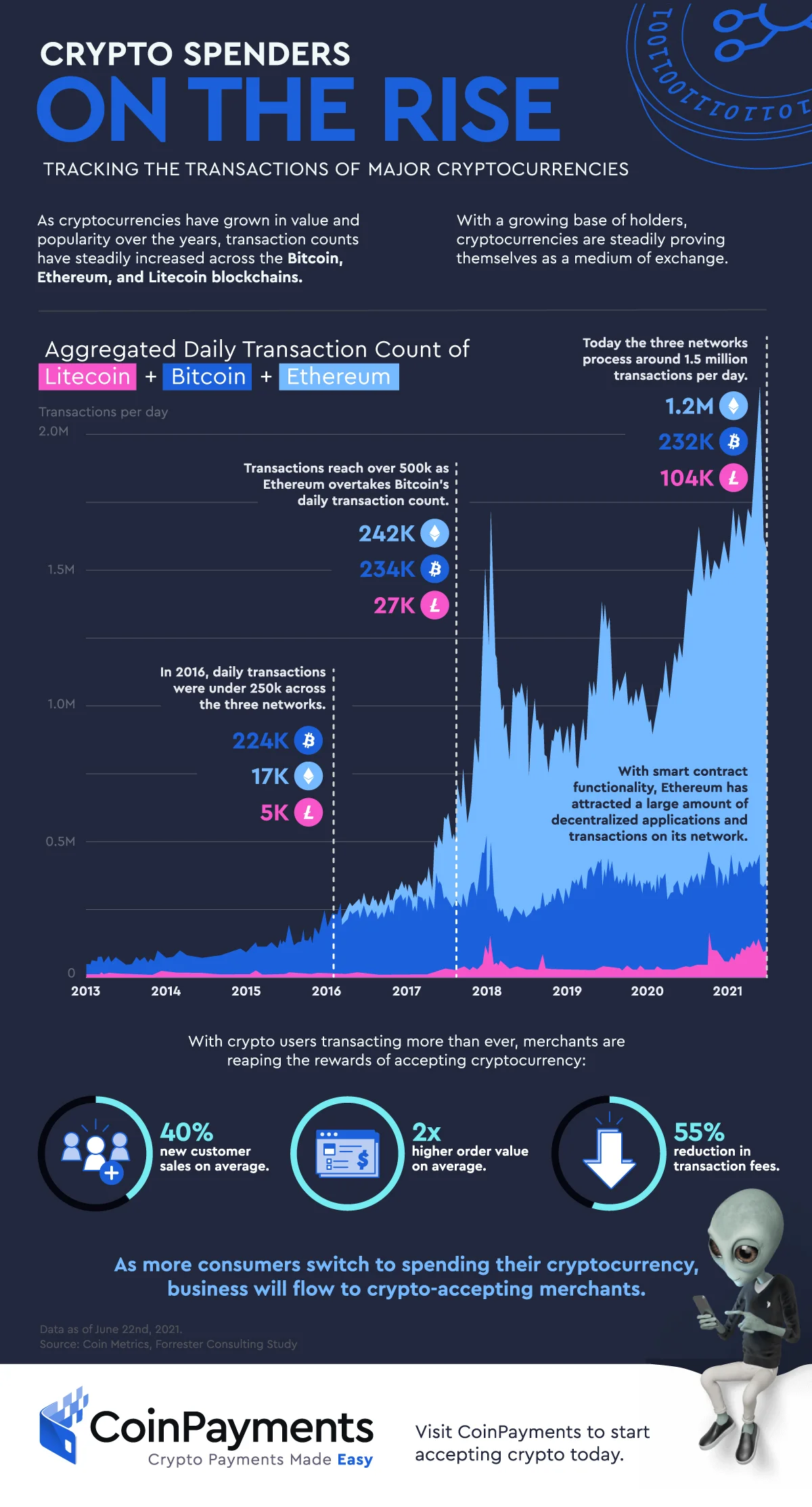 Skillz Middle East makes Digital Transformation happening for your company. We focus on the quick win to ensure Digital Marketing, e-learning, Web Meeting, Web Conferencing, Digital Signature, Digital Asset Management are ready to enhance your organization. Digital Marketing shall save money and bring a more efficient conversion for your brand and products.