Cryptocurrency exchange platforms seem to be increasing on a daily basis. One reason for this is the fact that there are more than 2,000 cryptocurrencies in existence as of January 2020. Paybis is an exchange platform that helps beginners to launch quickly.
Skillz Middle East makes Digital Transformation happening for your company. We focus on the quick win to ensure Digital Marketing, e-learning, Web Meeting, Web Conferencing, Digital Signature, Digital Asset Management are ready to enhance your organization. Digital Marketing shall save money and bring a more efficient conversion for your brand and products.
Only on CoinMarketCap there are now more than 300 exchange platforms that offer a similar service – buying and selling crypto.
But what makes one exchange platform better than another? Are Coinbase and Binance really the best options out there or are there more convenient options that work better for beginners?
This article will review a cryptocurrency exchange which is already quite a while on the market. A platform that has defied all odds, creating a seamless platform with a large number of benefits for their users. This exchange is Paybis.
Paybis was established in 2014, the exchange platform has grown to hundreds of thousands of users from around the globe.
Let's discuss in more detail what makes this platform the most valuable option available.
Choosing Paybis for your transactions
Over the years, Paybis has improved upon the issues mostly faced with big exchanges. If you were around during the latest bull market in 2017 you might remember the issues most encountered with new users:
Slow verification times
Inability to withdraw money from exchanges
Unresponsive support teams
And much, much more.
Well, with Paybis you won't need to worry about typical Exchange issues. And in the following chapters, we will explain why.
Features of Paybis
So, what makes Paybis to one of the best exchange? The platform has many features that are perfectly aligned with the needs of new crypto investors.
1.    The number of payment and payout options
Paybis has a lot more payment options that most of the available exchange platforms. Not only are users able to pay with their bank account and credit card, but also with a wide array of e-money wallets like Skrill, Neteller, Payeer, and Advanced Cash.
You can also pay using Bitcoin and Paybis gift cards. The latest makes a great gift for family and friends that consider entering the space.
Apart from the methods of payment, Paybis allows users to buy the most popular cryptocurrencies in the market. More specifically, investors can buy any of the following coins:
Bitcoin
Ethereum
Bitcoin Cash
Ripple (XRP)
Litecoin
Stellar Lumens
Neo
Binance Coin
Tron
Aside from cryptocurrencies, users can also transfer their funds into all the e-money wallets mentioned above. For example, you can sell your Bitcoin for Skrill. You can also sell Bitcoin for bank account or credit card funds.
2.    The 5-minute verification process
Verifying your account before making a transaction is not yet as streamlined as it should be. Many exchange systems will not recognize your ID document and, even if they do, you will likely need to go through a complicated process before you are able to buy crypto.
Paybis has solved this issue by hiring a team of experts who review documents in real-time. As soon as you submit your documents, an agent will go through the information you provided and let you know if you are good to proceed. The whole process takes less than 5 minutes to complete.
3.    Simplistic interface
Another great feature of Paybis is the minimalistic interface design, which is developed especially for amateur investors. You probably remember how scared you were of the whole buying process, especially in the early days, when it was not so easy to go through the process.
And it makes total sense. When dealing with money, it is important to have a full overview of every step you take. Paybis knows and understands this. For that reason, the dashboard only shows the absolutely necessary information to help you conduct a transaction.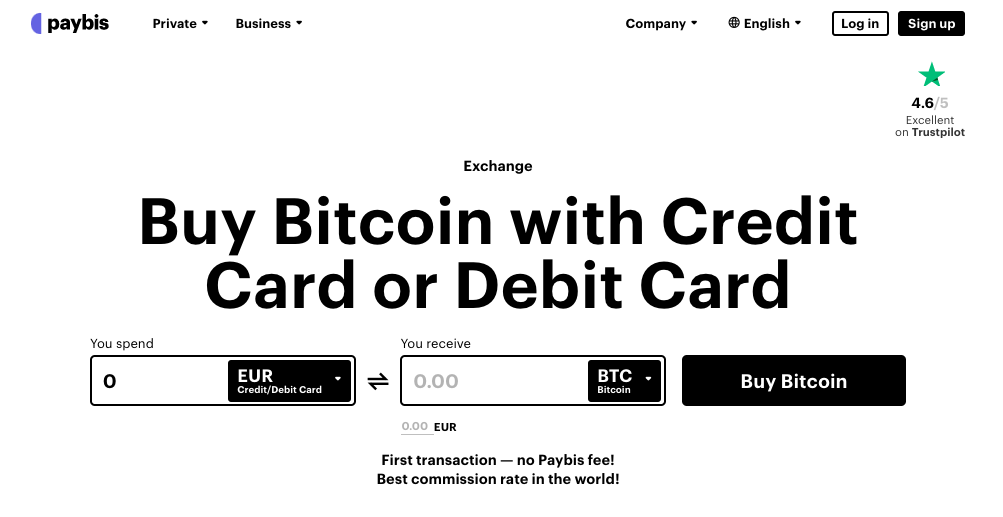 Here is a quick walkthrough of the steps you need to take to start a new transaction:
Select your payment method from the drop-down menu on the left side (You spend).
Choose your payout option from the drop-down menu on the right side (You receive).
Enter the amount you wish to exchange.
Click on the designated button to start a new transaction.
From that point onwards, the process is very easy, and all you need to do is follow the information on your screen.
4.    Responsive customer support team
So what if you find the process harder than expected? In that case, there is nothing to worry about. Paybis has an in-house, multilingual support team that is available 24/7, ready to help you out with anything you need.
To contact them, use the live chat functionality or send them an email. Even if your question is not directly related to the transaction you are trying to make, the Paybis team will be happy to assist you.
Over the year, the reputation of Paybis has reached a level of excellence, partially due to the helpful support agents. You can see all the reviews from existing users on Trustpilot, where Paybis scores 4,6/5 stars.
5. No coin storage on exchange
Have you ever tried to withdraw your coins from an exchange? The request can take several hours (if not days) to complete, and you are dependent on the actions of the platform you store your funds on.
Paybis believes that users should not store their cryptocurrency on exchanges. When you don't own the keys to your coins, the coins are not really yours. As such, it is important to prioritize the security of funds for all users.
The platform does not store your newly bought funds on exchange-based wallets. Instead, as soon as your verification is completed, you will need to provide the details of your personal wallet. Once your payment is made, Paybis will send the funds directly to the wallet you indicated.
Conclusion – Is Paybis worth it?
Paybis is a great exchange platform for beginner-level investors and users who prefer to purchase using unusual payment methods.
If you belong in any of these groups, then there is a high chance that Paybis will become your go-to exchange. With one commission-free transaction for all new users, you have nothing to lose when you try.
On the other hand, if you are often trading cryptocurrencies, you might want to look for other options. Paybis does not host any crypto-to-crypto trading pairs, which makes it hard to utilize swing trading opportunities.
Special by beginners Paybis was always recognized as the best platform to use for cryptocurrency trading if you want to know more about bitcoin, blockchain, and more you can find an article "Bitcoin & Blockchain Technology a Beginner's Guide".