Time to enjoy the day and read some fun things about our most favorite Social Media Network. 10 Facebook Stats & Fun Facts you never knew you wanted to know.
Skillz Middle East makes Digital Transformation happening for your company. We focus on the quick win to ensure Digital Marketing, e-learning, Web Meeting, Web Conferencing, Digital Signature, Digital Asset Management are ready to enhance your organization. Digital Marketing shall save money and bring a more efficient conversion for your brand and products.
Who so the movie which actually tells the story how the whole Facebook started and what happens in the early days? Did we see any fun facts about Facebook in the movie? Well, I feel not. So let's get the party started, we check some hardcore facts before we look into some really important funny once. The Infographic looks into data most brought together from Omnicore.
Facebook Statistics
Last updated: 6/30/17
Total Number of Monthly Active Users – 2.01 billion

Total Number of Mobile Monthly Active Users – 1.66 billion

Total Number of Desktop Daily Active Users – 1.32 billion

Total number of Mobile Daily Active Users – 1.57 billion
Facebook Demographics
Facebook users are 53% female and 47% male.
Average Facebook user has 155 "friends".
56% of online Seniors aged 65+ are on Facebook and 63% are between age 50-64.
87% of online users of age 18-29 are on Facebook.
74% college graduates are on Facebook.
72% of online users of income more than $75K are on Facebook.
82 percent of 18 to 29-year-olds online in the U.S. use Facebook.
79 percent of 30 to 49-year-olds online in the U.S. use Facebook.
56 percent of U.S. online users ages 65 and up use Facebook.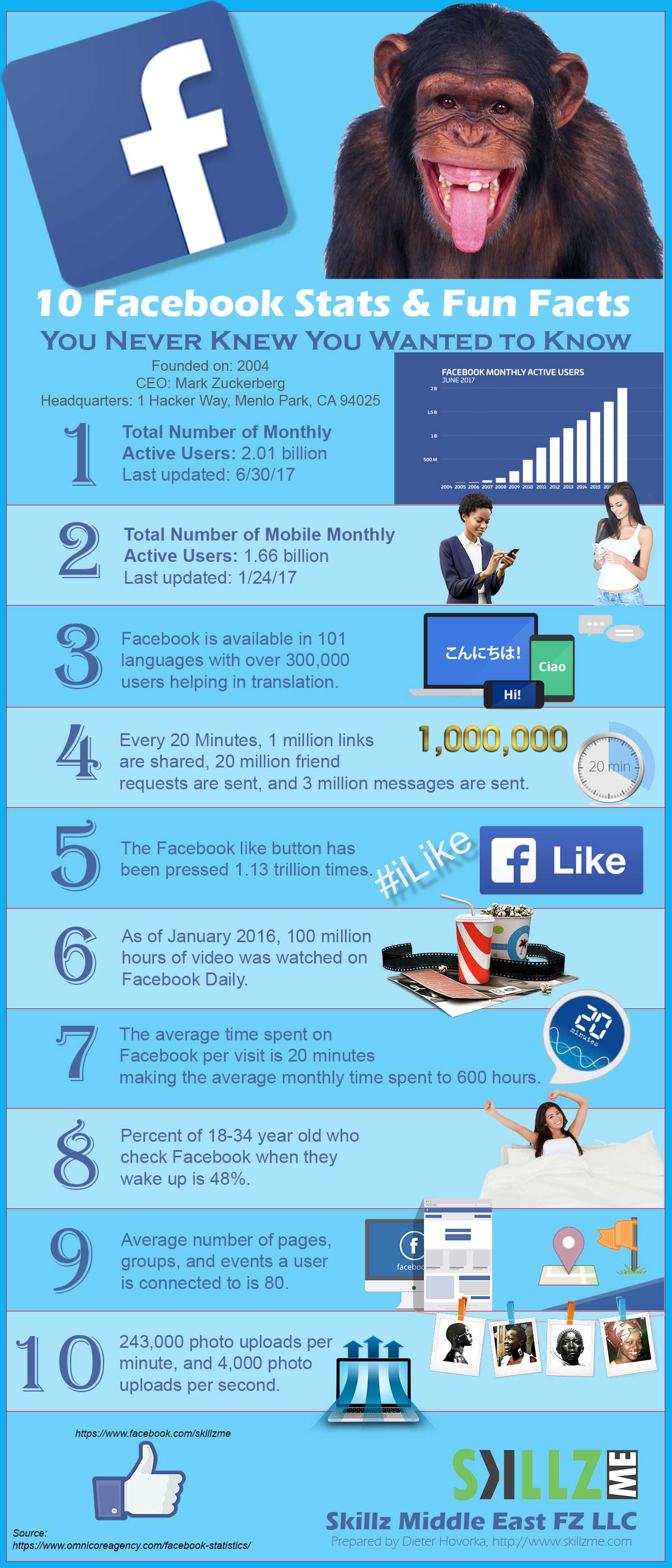 Fun Facts
More than 40 million small businesses have active pages pages
The Facebook like button has been pressed 1.13 trillion times..
As of January 2016, 100 million hours of video was watched on Facebook Daily.
The average time spent on Facebook per visit is 20 minutes making the average monthly time spent to 600 hours.
More than 83% of daily active users are outside the US and Canada the number has grown from 75% in the previous year which goes on to show the increased growth in rest of the world.
Percent of 18-34 year old who check Facebook when they wake up is 48%.
The average number of pages, groups, and events a user is connected to is 80.
350 Million photos are uploaded every day, with 14.58 million photo uploads per hour, 243,000 photo uploads per minute, and 4,000 photo uploads per second.
Every 20 Minutes, 1 million links are shared, 20 million friend requests are sent, and 3 million messages are sent.
55 million status updates are made every day.
Facebook is available in 101 languages with over 300,000 users helping in translation.
Did you like what you have been reading, share your thoughts below and see you soon reading another interesting Infographic.