OpenText™ is proud to be named a leader in Enterprise Content Management Business Content Services (ECM BCS) by analyst firm Forrester Research, Inc. in The Forrester Wave™: Enterprise Content Management – Business Content Services, Q2 2017.
Trust Your Business Content to an ECM Leader
The ways that knowledge workers access, create, and collaborate on business content are changing rapidly. And enabling them with simple, effective tools that don't sacrifice control and governance is a key component of next-generation Enterprise Content Management platforms.
With the addition of Documentum, OpenText is shaping the future of ECM to help you drive innovation, move from information to insight, and fuel growth. In its vendor review, Forrester cited both OpenText Content Suite and Documentum as a leader, which we believe validates our direction and underscores our commitment to an innovative, unified solution portfolio for document management.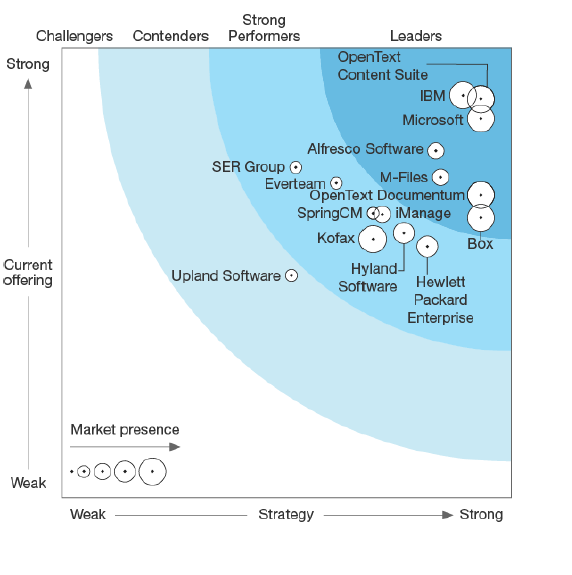 "OpenText continues with its hybrid approach, making its Content Suite available in the OpenText Cloud, as well as customers' preferred public cloud services such as Azure or Amazon," reads the report. "OpenText has focused on productivity use cases, with ongoing integration to major leading enterprise applications (such as Salesforce or SAP SuccessFactors). Virtual connected workspaces support templated project or program sites, and secure file sharing is available with the Tempo Box module."
The Forrester report examines ECM offerings that deal with business content — unstructured data such as documents, spreadsheets, emails, and multimedia elements. Read it
to learn:
The challenges that organizations face trying to balance compliance obligations with employees' demands for ease of use
The key differentiators of business content services, including analytics, file sharing, collaboration, and a focus on usability
Why OpenText made the list of vendors that "lead the pack"
Want to learn more? Forrester also named OpenText a leader in The Forrester Wave™: Enterprise Content Management – Transactional Content Services, Q2 2017. Read the report.
Skillz Middle East makes Digital Transformation happening for your company. We focus on the quick win to ensure Digital Marketing, e-learning, Web Meeting, Web Conferencing, Digital Signature, Digital Asset Management are ready to enhance your organization. Digital Marketing shall save money and bring a more efficient conversion for your brand and products.