The announcement on the market was a big one. Adobe went into a definitive agreement to acquire Magento Commerce, a market-leading commerce platform. Gartner recently released a Magic Quadrant for Digital Commerce who recognized Magento in the leader quadrant.
Skillz Middle East makes Digital Transformation happening for your company. We focus on the quick win to ensure Digital Marketing, e-learning, Web Meeting, Web Conferencing, Digital Signature, Digital Asset Management are ready to enhance your organization. Digital Marketing shall save money and bring a more efficient conversion for your brand and products.
Magento Commerce Named a Leader by Gartner for Digital Commerce 2018. The space in the leader quadrant is getting hot. We can see names like SAP, Salesforce, Oracle, IBM and Digital River.
Just 10 days ago the news hit the newswires that Adobe, the leader in Digital Media and recognized leader in Web Experience Management solutions went into an agreement with Magento to aquire them.
Magento has made its name in the OpenSource community and service many clients with a competitive eCommerce solution. In the UAE Magento has a market share of +12% with more than +120 online stores running on their commerce platform. This makes Magento the #2 in the United Arab Emirates of choice when it comes to commerce platforms.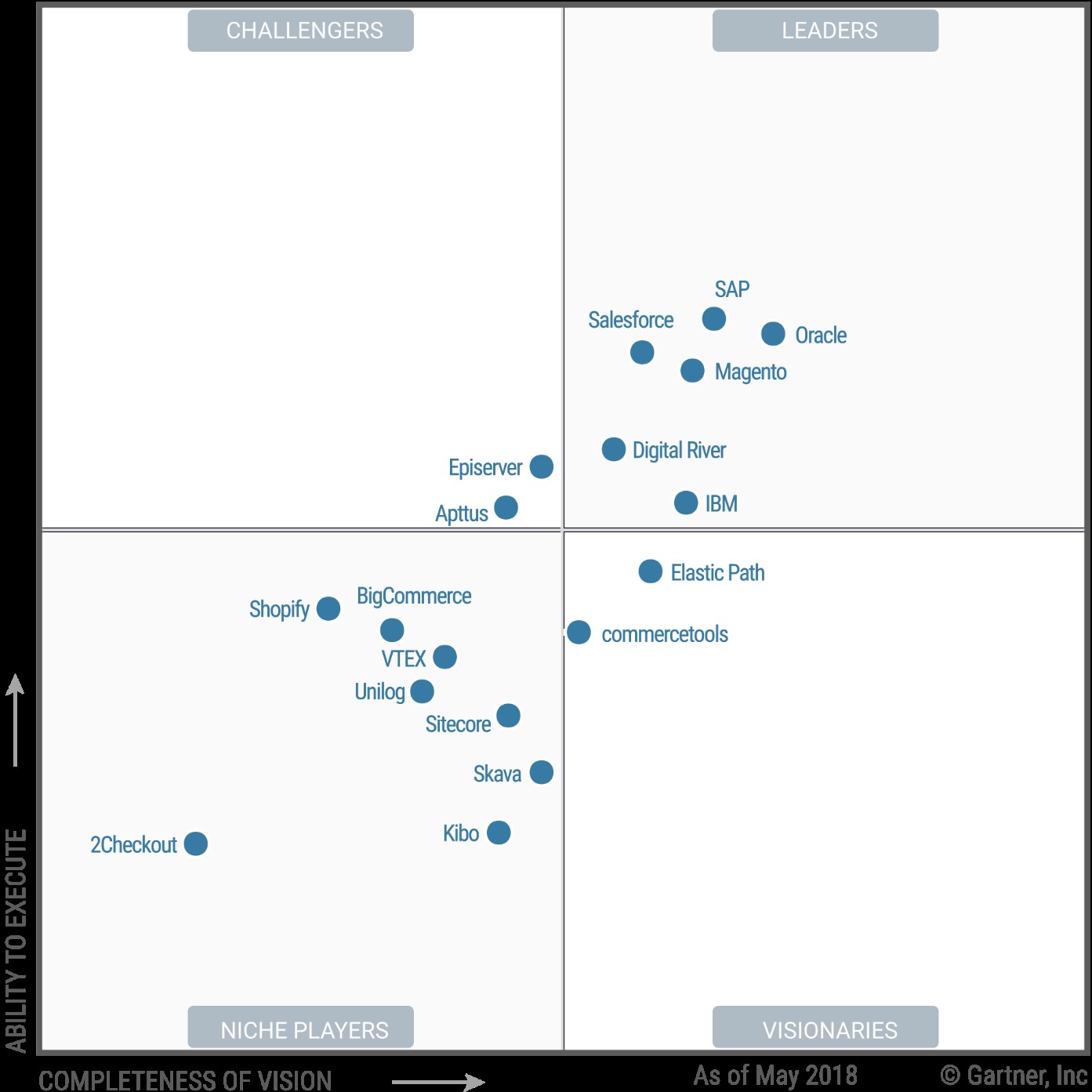 What can we learn from the report
Gartner currently tracks more than 90 vendors in this space. While this research identifies the top 18 vendors based on our inclusion criteria, an excluded vendor does not mean that the vendor and its products lack viability.
We have vendors which offer on-premise licensing and installation, while the majority of vendors offer a Saas (Software as a Service) based licensing or a cloud-based solution licensing. Some of the vendors also support a hosted environment for their clients.
Personalization is seen as one of the major drivers in today's digital commerce landscape however, there are vendors out there which still don't pay attention to the topic.
A major driver for a successful commerce platform is the ability to integrate into other solutions and offerings. However, even in the age of REST API and other simple methods of integration, there is still no standard in this field.
We have vendors which have industry limitations out there and the ones who feel comfortable in certain fields.
TCO is a hot topic for a lot of organizations in today's economy. We can see solutions out there which are not easy to judge on their TCO which keeps the spending in digital commerce unclear at the time of purchase. Organizations can get surprised if they are new to a commerce store or online shop. Companies migrating from in-house development will have a greater vision to evaluate functionality and their cost easier.
Mobile-first as one of the hottest agenda points over the last years did also impact the commerce platforms. We can see great adoptions of this with native apps and hybrid websites. All over we can acknowledge they have the top 18 platforms with proper mobile first support.
Working in consulting for digital marketing since a couple of years taught us the struggle of marketers when it comes to B2B digital marketing. In the report, we can see that not all platform providers pay the same attention than in the B2C sector. This could be the reason why marketers have the challenge to find the right solution for themselves.
Magento where is the journey going
Gartner was preparing the report for digital commerce while the announcement came from Adobe to acquire Magento. All results of this acquisition are not incorporated in the report for digital commerce. Magento is loved by its clients by the chance to use the community edition (opensource) for free, while additional modules can be purchased on demand. A shift happens over the last year to have more valued added modules like Magento Commerce platform (formerly known as Magento Enterprise Edition), Magento OM and Magento Business Intelligence (BI), are multi-tenant SaaS solutions.
The strength is seen in their Growth and service provider network, their complete solution offering, and marketplace connectivity. Even their recent ambition of WCM (Web Experience Management) functionality looks promising. With the acquisition of Adobe special, the WCM part will extend great with Adobe AEM (Adobe Experience Management) offering. Social selling is a big topic in commerce platforms and Magento looked into standards connectors and offerings for eBay and Walmart/Jet which are planned to be implemented late 2018.
One of the weakness today of Magento is personalization, which will get a boost with the capabilities from Adobe. Magento Commerce lacks also in robust PIM functionality, relative to other leading commerce platforms. Third party vendors need to help out here.
Wrap-Up
The acquisition through Adobe is it positive or do we see a threat here? While the opensource positioning of Magento is for sure a highlight from Magento we might see a danger here. Companies like Oracle who acquired a couple of opensource vendors like Java, MySQL have stuck to the promise to their community. We will see what comes next. Social selling will booth in the next years and the commitment came already from Magento. All over it is a good promise that we will see in the future Adobe/Magento again in the leader quadrant of Digital Commerce and not be losing out.