Coronavirus changed the way to do business for many industries – from education to delivery, e-commerce, and, of course, healthcare. More and more people turn to digital solutions when it comes to medicine, and healthcare apps replace regular visits to doctors.
Vitaly Kuprenko is a technical writer at Cleveroad It's a mobile app and web development company in Ukraine. He enjoys telling about tech innovations and digital ways to boost businesses.
Some people used telehealth before the COVID-19 outbreak, but not too many: only 1 in 10 US patients used telemedicine services before the pandemic. Same for doctors: as of October 2019, only 39% of US physicians used telemedicine for their practice. 
But in the wake of COVID-19, the need for virtual solutions has grown faster than we were prepared for. Healthcare systems are now being pushed to expand their telemedicine through smartphones, tablets, and other devices.
Let's see how telemedicine can help people stay home and stay safe during the pandemic. 
What's Telemedicine and How It Works
Let's start with the basics: what telemedicine actually is and how it can help us. 
Basically, telemedicine is a method of delivering healthcare services to patients remotely. For that, both patients and doctors need: 
Software (mobile app, website, or a desktop program)
Web camera
Microphone
 The software connects patients with their doctors and stores electronic health records (EHR), prescriptions, test results, and other documents. The camera lets doctors examine their patients, and the microphone is used for voice chat.
There are three primary use cases of telemedicine:
Online video conference—lets doctors examine patients via the camera of their devices. In some cases, patients know what stands behind their symptoms, they just need a confirmation from their physician. Instead of going to the hospital, patients reserve an online appointment with the doctor saving their time. 
Treatment advice—applies to patients who have a treatment plan. If patients have any questions concerning their treatment (like drug schedule), they can text their doctors using an in-built chat in a telemedicine app. If there are any serious questions, users call physicians with a voice call feature.
Prescriptions—allows patients to get medicine prescriptions online. These apps store users' EHRs, and doctors decide on prescriptions based on medical history. Patients have to apply for medicine and wait until their appliance is reviewed by physicians. Then, people come to the pharmacy with a printed prescription or simply show it on their smartphones. 
These teleconsults and prescriptions are just a tip of the iceberg called 'telemedicine.' Smart chatbots, predictive analytics, and remote monitoring are also telemedicine elements that help people fight COVID-19.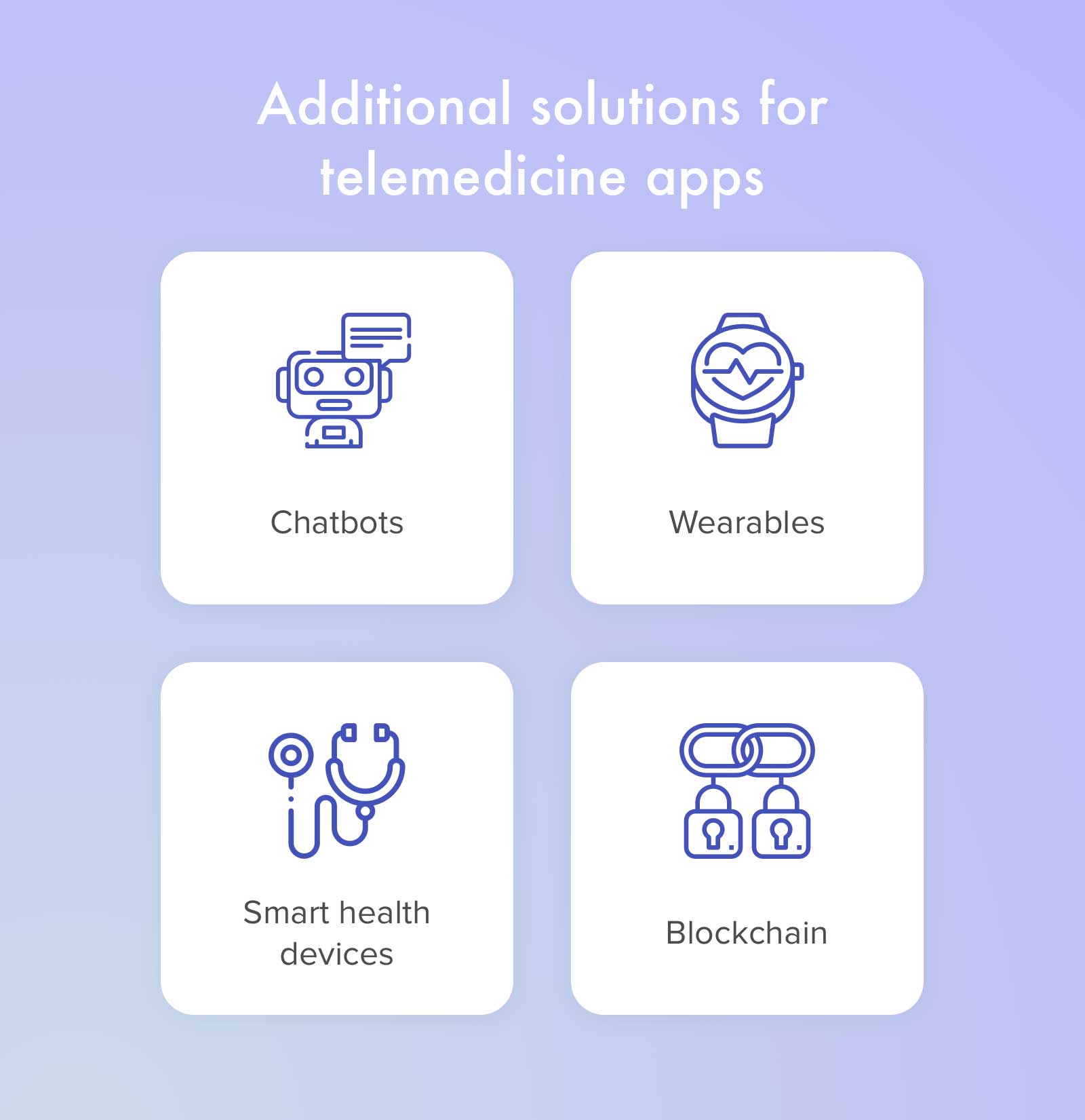 Telemedicine is about to step even further using the power of artificial intelligence (AI) to measure patients' condition via a smartphone's camera. For example, companies like
Binah.ai
created an app that measures. 
Heart rate
Oxygen saturation
Heart rate variability
Respiration
Mental stress
Blood pressure (coming soon)
…with the help of a smartphone (or any other device) camera.
Here are some telemedicine apps you may want to try out: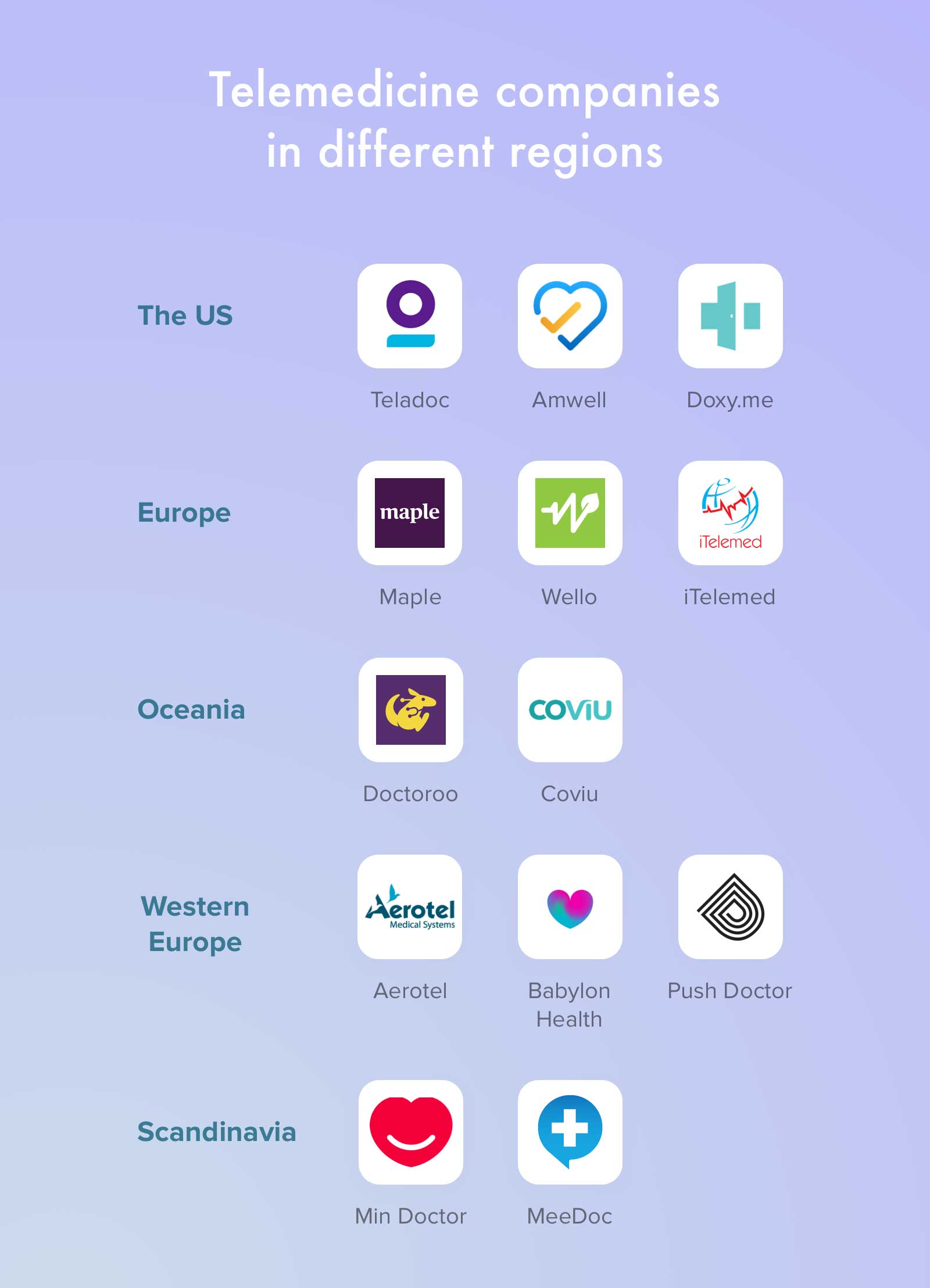 How Telemedicine Helps Fighting COVID-19
Telehealth has grown much during the pandemic and total lockdown. Same for telemedicine apps: appointments via PlushCare, a service that helps people find and meet with a doctor online, were up by 70% during the lockdown. 
Amwell, another e-health service, increased its app use by 158% in the United States. 
Because of the pandemic, HHS has taken steps to make it easier to provide telehealth services.
Healthcare providers who comply with HIPAA requirements may now provide services using common apps like Facebook Messenger, Hangouts, Zoom, or Skype for providing healthcare consultations. Even in case, the application does not fully comply with HIPAA.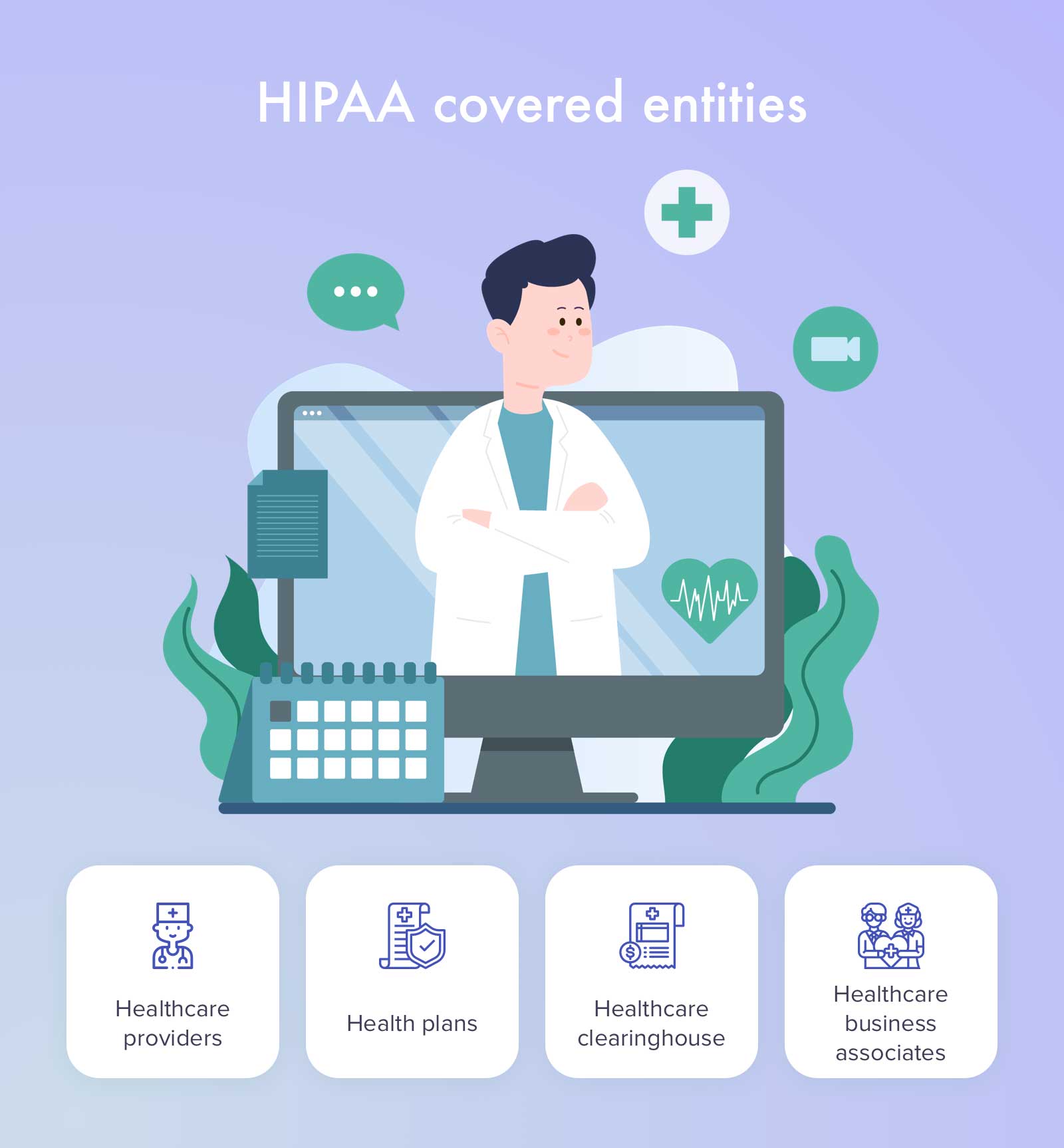 Of course, doctors won't tell you whether you test positive or negative via a video chat. You still have to call an ambulance to be tested.
But further remote video consultations may be quite enough when an infected person is completely asymptomatic but still needs advice.
Telemedicine is perfect for this: it limits patient displacement to hospitals,  helps to allocate hospital capacity to urgent cases while restricting the spread of the virus.
For example, a healthy 20-year-old patient may need only one or two visits a year. In contrast, older patients, who are more likely to have a chronic condition, may need to visit their doctors once or twice a week.
Telemedicine will keep such patients from using public transportation or standing in lines in the hospital. In turn, this reduces the pressure on medical workers and helps hospitals not to lose regular patients with chronic diseases. Who also need treatment, even if they're not infected. 
Telemedicine Post COVID-19
Telemedicine is here to stay long after the pandemic is over.
More and more people start turning to remote healthcare, according to the McKinsey COVID-19 Consumer Survey. 46% of consumers are now using telemedicine to replace canceled healthcare visits. Back in 2019, the number was three times lower – 11%.
These numbers certainly indicate the need for remote healthcare now and in the future. And there's a whole lot more that can be done in telemedicine.