I can remember as it would have been yesterday, not long ago an experimental undertaking, influencer marketing has rapidly matured, making the transition to the digital marketing mainstream as a go-to strategy. There is no marketer not planning it into there marketing mix.
Looking forward to 2020 was destined to be yet another year of growth for influencer marketing as it makes its reach into other verticals, industries, social networks, and content formats. However, everything came different from the impact of COIVD-19 back in March 2020.
Based on this comparison between money spent on sponsored posts and Stories on Instagram in Q1 2019 and Q1 2020, it is estimated that Instagram's influencer marketing market size will reach between $5 billion to $6.5 billion in 2020.
But let us hold back a second and look into some details, things you must know about influencer marketing in 2020.
What to know about Influencer
Their top concern is authenticity and compliance and key to present a brand or product.
99% of influencers say they only work with brands they believe in and who share their values together.
61% prefer monetary compensation over all other types of collaboration arrangments.
85% report buying followers as their top compliance concern within the industry.
What you should know about social networks
Instagram is still leading the pack and is absolute leader in influencer marketing.
More than 75% of influencers of all genders rank the platform as their favorite.
Influencer considers stories, posts and IGTV as the top 3 content formats with the most potential in the next 6-12 months.
Instagram influencer marketing is key to social commerce's growth: 42% of fashion influencers have already made a purchase on the platform.
Following the footsteps of Instagram, TikTok is expected to become a major player in the influencer space with 41% of users aged 16-24.
Are you a marketer? If not so and you are maybe you are an influencer or want to be one then know the following.
What you should know about the marketers
The see influencer marketing as an integral part of their all-over marketing strategy.
84% believe that influencer marketing is effective at connecting with consumers on social media.
90% plan to increase or maintain their influencer marketing budgets.
The overall formula to obtain the best ROI: Influencer marketing + SEO + Social Ads
For marketers scaling up their investment in 2020 as well as those initiating their influencer activity just now, it's vital to get an accurate picture of the territory as it stands today.
Below, in the infographics from the influencer marketing platform SocialPubli which shows it in a compact way.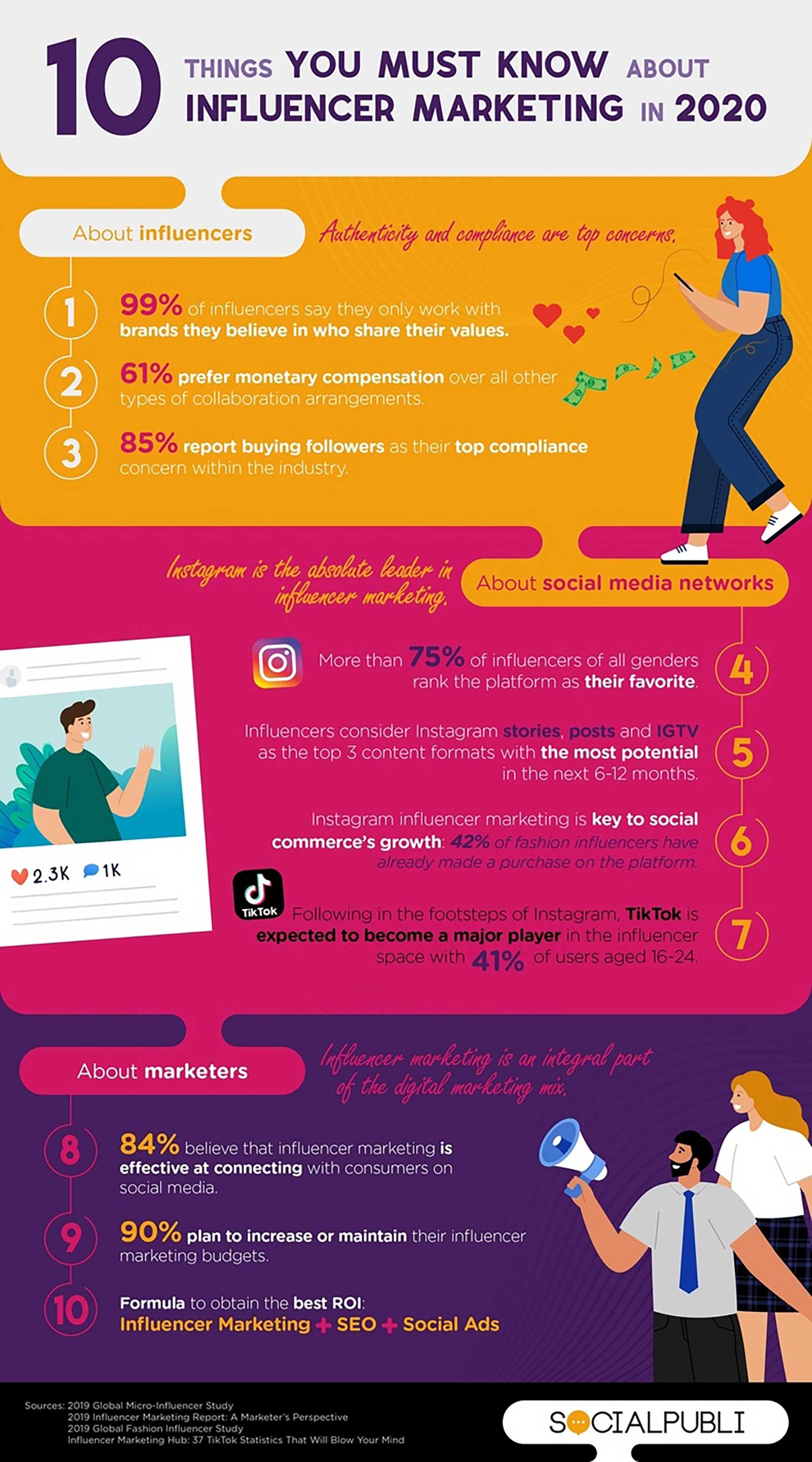 Skillz Middle East makes Digital Transformation happening for your company. We focus on the quick win to ensure Digital Marketing, e-learning, Web Meeting, Web Conferencing, Digital Signature, Digital Asset Management are ready to enhance your organization. Digital Marketing shall save money and bring a more efficient conversion for your brand and products.