Linking Data is the Biggest Challenge for Global Marketeers across all industries. This was the case 2015 and reaching 2018 did not make us more happy on this topic. Let's review which kept our marketeers busy 2015 and the big data challenge which is still valid in 2018.
Time to review some findings of the fact that reading data seems not to be easy.
Big data
is one of the biggest buzzwords in the industry and kept marketeers busy the last century,
The 2015 Digital Marketer identified several top barriers to achieving a fully integrated cross-channel marketing approach. 91% of companies are leveraging data and data quality in an attempt to optimize their customer experience. However, only 28% are creating real-time, triggered messaging across multiple channels with their data. 89% of marketers have difficulty in creating a Single Customer View due to poor data quality.
32% no single customer view
31% companies current technology
31% organizations structure of the business
Marketers are not in the blinds, they seem to know exactly where the problem is. This can be packed in numbers and read easy.
43% OF MARKETERS REFERRED TO POOR DATA QUALITY AS THE BIGGEST CHALLENGE FOR ACHIEVING A SINGLE CUSTOMER VIEW.
39% BELIEVE IT'S DUE TO SILOED DEPARTMENTS.
37% FEEL IT IS DUE TO THE INABILITY TO LINK DIFFERENT TECHNOLOGIES.
AROUND THE WORLD
The top challenges for marketers from around the world share many similarities, but priorities and barriers differ slightly by region
17% Europe
Only 17% of Spanish respondents reported linkage issues. 42% said their company's technology was the biggest problem.
The French were very similar to the Spanish, with only 24% flagging linkage issues and 38% raising technology as a major barrier.
30% North America
38% rated organizational structure as their highest priority. They are 26% more likely than the global average to say they don't have a clear roadmap to success.
9% APAC
Only 9% mentioned technology as an issue, whereas 44% say they struggle to link data. 35% of respondents from Australia and New Zealand identified technology as their largest challenge.
37% UK
37% said that single customer view is the biggest challenge, followed by 33% mentioning organizational structure and  32% talking about their company's current technology.
Read the full infographic which was put together by Experian, and leave your comments below. Let us know how you are getting along with reading you customers data.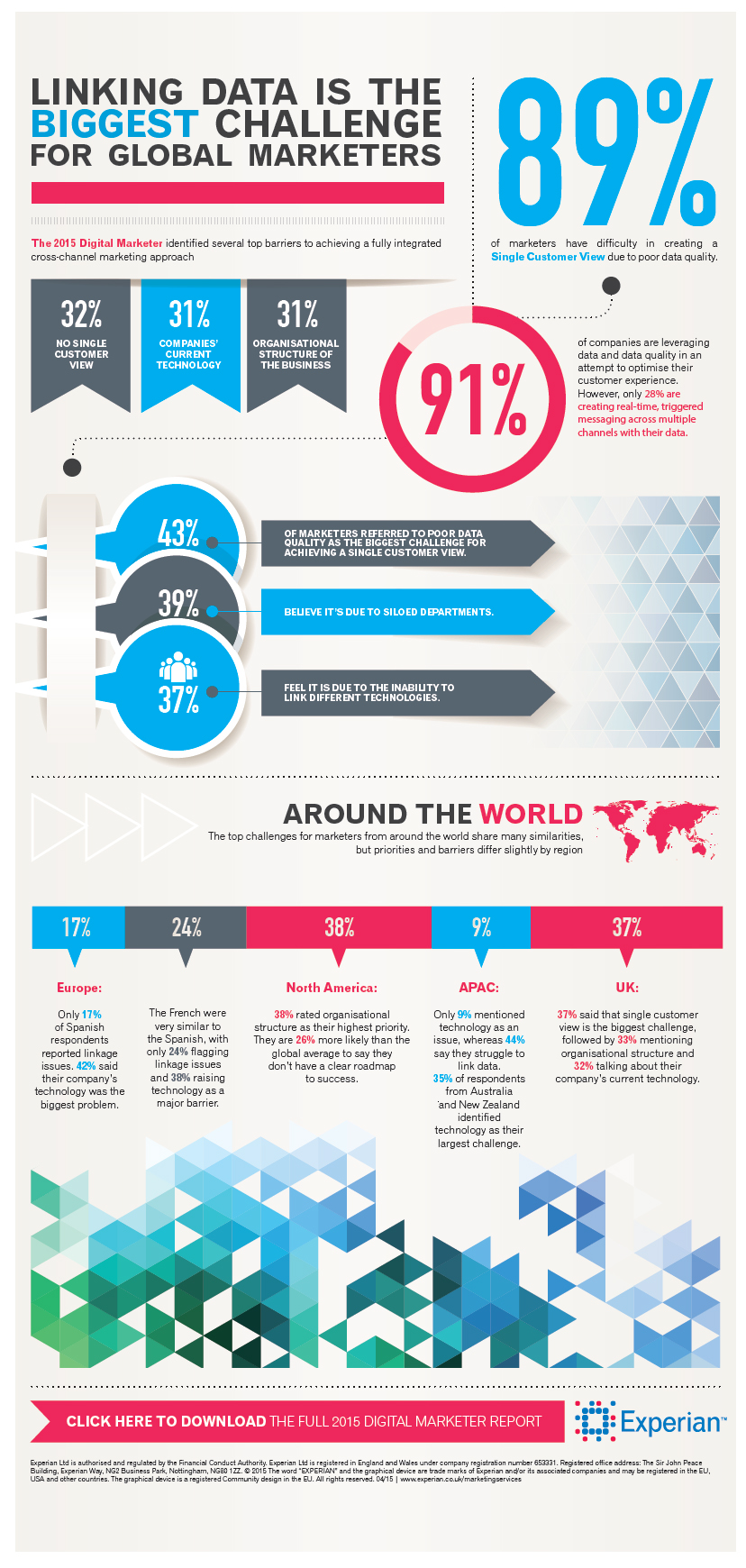 Skillz Middle East makes Digital Transformation happening for your company. We focus on the quick win to ensure Digital Marketing, e-learning, Web Meeting, Web Conferencing, Digital Signature, Digital Asset Management are ready to enhance your organization. Digital Marketing shall save money and bring a more efficient conversion for your brand and products.