During the current global pandemic, people are suffering in many ways. This forces them to search for opportunities and options to escape from suffering economic impacts, save money, time or get an early advantage in a pandemic situation. Whenever needs are getting high you can be sure scammers will appear on the scene to make a quick profit. The latest appearance is COVID-19 vaccine scams which hit the mainstream.
It is sad enough that the biggest danger for humans are human themself. Scams special in the online world are on the rise and one of the latest scams is the COVID-19 vaccine scams. Besides losing maybe money there might be another dangerous side effect which we shall be aware of.
I am nowadays thankful that I live in the United Arab Emirates – in the Emirates of Dubai. The government decided early to offer free vaccines to every residence in the United Arab Emirates. Since March 2021 there is also the freedom to choose between 3 different producers of vaccines. Sinopharm from China and Pfizer-BioNTech from the United States, both approved in December 2020. In January 2021, the UAE Ministry of Health and Prevention approved the Russian COVID-19 vaccine, Sputnik V, for emergency use, making it the third such vaccine to be approved for use in the UAE. Earlier in February 2021, Dubai approved the Oxford/AstraZeneca vaccine.
However let's come back to our original topic, how can we prevent to trap into a scam of someone offering a COVID-19 vaccine? The Coalition Against Insurance Fraud and the California Department of Insurance put an infographic together talking about potential signs of fraud. Here are signs of potential scams.
1 YOU'RE  ASKED TO PAY OUT OF POCKET
Don't pay scammers. You likely will not need to pay anything out of pocket to get the vaccine during this public health emergency.
2 YOU'RE ASKED TO PAY TO PUT YOUR NAME ON A LIST
If you are asked to pay to get on a list for the COVID-19 vaccine, it is likely a scam. You should not pay to put your name on a list and you can't pay to get early access to the vaccine.
3 UNSOLICITED EMAILS, PHONE CALLS, AND TEXTS
Scammers use phone calls, text messages, and emails purporting to be vaccine centers, insurance companies, and government health agencies to steal information.
4 OFFERS FOR VACCINE OR TREATMENT FOR PAYMENT
Scammers are advertising fake treatments and vaccines for COVID-19. Check with your health care providers and your state officials for vaccine distribution plans before agreeing to pay for any COVID-19-related treatment.
5 YOU ARE ASKED TO VISIT PHONEY VACCINE WEBSITES
They may look legitimate, but scammers create websites to collect your information and your money under the guise of providing you with coronavirus vaccine updates. Only visit secure and reputable websites. When in doubt, call your state or local health department.
Prevent the spread of COVID-19 fraud and share this blog.
Another way of COVID-19 vaccine scams we saw raising over the last weeks was an offer to receive a vaccine by traveling abroad. Sometimes people see their own government is not moving fast enough which makes them desperate to receive vaccine protection by visiting a country of availability. We see offers from people, organizations, or clubs who offer a trip that includes a COVID-19 vaccine.
A Forbes article " 'Shot Trips' To Dubai, Florida, Tel Aviv, Havana: Covid-19 Vaccine Tourism Takes Off" published in February 2021 sums up the offers on the market, but not all of them are truthful.
Quick research showed that not all destinations named offer any tourist paid vaccine in their country yet. With the pandemic in mind and all the risks we see out there, we need sometimes to sit back and be more patient than we like to be. Keeping this in mind, we wish all of you "Stay Safe".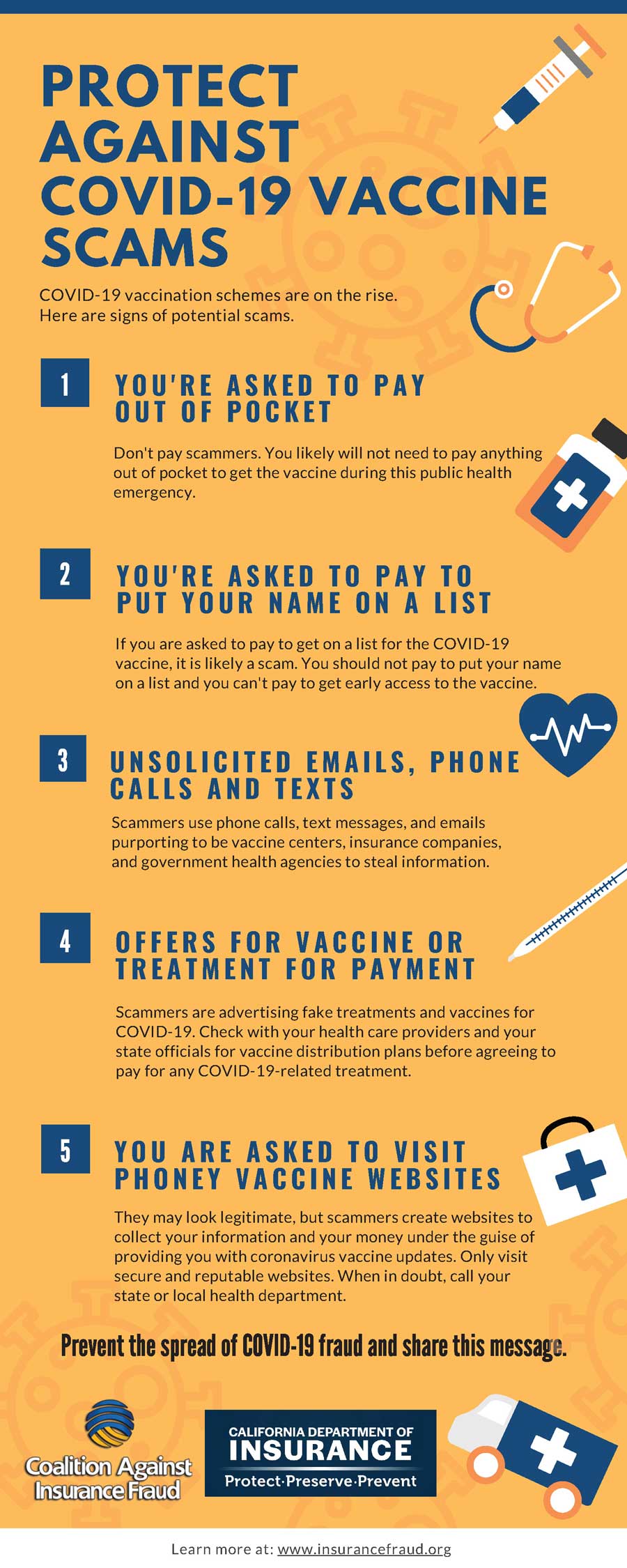 Our Health is deniable the most important thing in our life. During the pandemic times of COIVD-19 people suffer not only from the virus, but also from mental stress, social misleading information, panic seeder, and scammers which impact our well- beingness. Social responsibility starts with ourselves doing anything required to prevent the spread of the virus and protect our loved ones from the virus.