The Emerging Leaders Differentiate On Optimization Capabilities. Adobe stands alone as the Leader in Digital  Intelligence Platforms.
Skillz Middle East makes Digital Transformation happening for your company. We focus on the quick win to ensure Digital Marketing, e-learning, Web Meeting, Web Conferencing, Digital Signature, Digital Asset Management are ready to enhance your organization. Digital Marketing shall save money and bring a more efficient conversion for your brand and products.
The best customer insights lead to the best customer experiences.
To offer customers the experience they expect requires more than traditional analytics. You need digital intelligence. As we've evolved into a true Digital Intelligence Platform, we're in the right position to help you offer amazing customer experiences across channels. See why we are listed as the only Leader in The Forrester Wave™: Digital Intelligence Platforms, Q2 2017.
Key Takeaways
Ten Top Vendors Compete In A New And Rapidly Developing Marketing
Forrester's research uncovered a market in which Adobe leads the pack and Evergage, IBM, and SAS follow closely behind. Google, Localytics, Mixpanel, Optimizely, and Webtrekk offer competitive options, while Cxense has a developing solution that shows great promise.
CI Pros Are Looking For A Platform To Optimize All Digital Experiences
The DI platform market is growing because more CI pros see DI as a way to unify the understanding of customer digital interactions and to deliver consistent, continually improving experiences. Additionally, CI pros increasingly trust the platform providers to act as strategic partners, bringing together digital data, analytics, and customer engagement optimization technologies.
Engagement Optimization Capabilities Are Key Differentiators
Vendors differentiate themselves by their supporting services and market size as well as by their digital data management and analytics capabilities. However, we see the biggest differentiation in digital engagement optimization capabilities for behavioral targeting and online testing.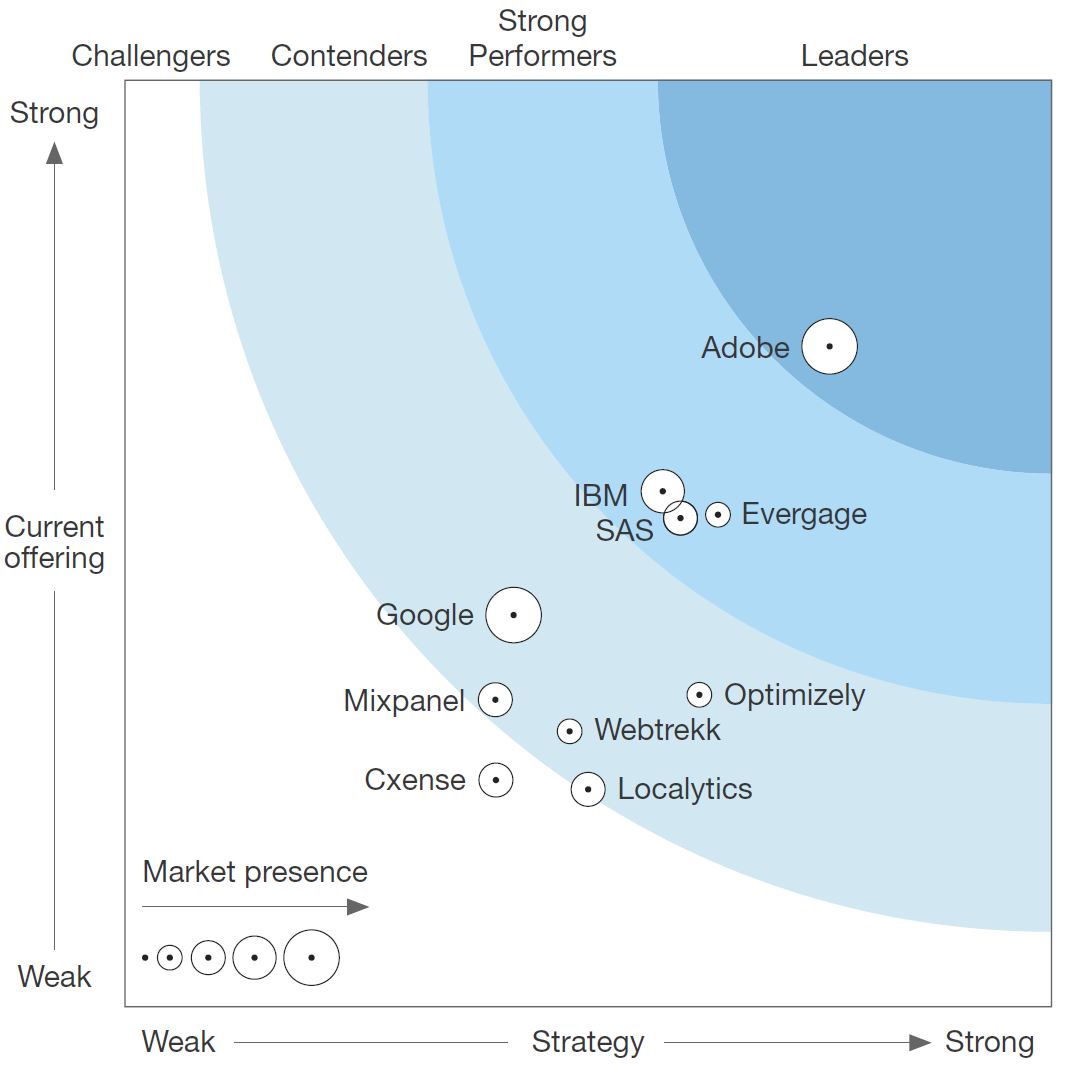 Adobe Is A Leader
Adobe consolidates a broad set of capabilities around core platform services. Adobe continues to have strength and depth in digital intelligence, primarily for optimizing customer experiences and engagement, all within the framework of its marketing cloud platform in a marketing and eCommerce context. Adobe must try not to be a victim of its own success and make sure that much of its customer base is not left behind on legacy systems as it modernizes its DI stack. Looking forward, the vendor aims to continue to entice and extend its customer base through partnerships with Microsoft Azure (to strengthen its appeal to enterprise sales teams) and Adobe Sensei (to focus its AI efforts on scaling customer experiences).
Evaluated Vendors: Product Information And Selection Criteria
Adobe Analytics Standard
Adobe Analytics Standard — Mobile Apps
Adobe Analytics Standard — Video
Adobe Analytics Premium — Customer 360
Adobe Analytics Premium — Predictive Intelligence
Adobe Analytics Premium — Attribution
Adobe Analytics Premium — Complete
Adobe Target Premium
Adobe Activation Core Service
Adobe Mobile Core Service
Adobe Places Core Service
Forrester Research (Nasdaq: FORR) is one of the most influential research and advisory firms in the world. We work with business and technology leaders to develop customer-obsessed strategies that drive growth. Through proprietary research, data, custom consulting, exclusive executive peer groups, and events, the Forrester experience is about a singular and powerful purpose: to challenge the thinking of our clients to help them lead change in their organizations.
For more information, visit forrester.com.