Trends determine the direction in which people are moving. Digital marketing, trends help businesses ascertain best means to reach potential customers. These trends also help businesses properly satisfy their current customers.
These trends change from time to time. Businesses have to stay up to date with the latest digital marketing trends to remain in the competition. Below are the 9 latest digital marketing trends you must know for your eCommerce business.
User-Generated Content
User-generated content will trend among brands. Recent studies show that people are more likely to trust the words of a third party about a brand than those of the brand itself. So brands will focus more on enabling users to generate content about brands. There will be more loyalty programs than just regular giveaways.
Brands will focus more on satisfying their current customers. The reason is for current customers to refer them to other potential customers. 
This method will be more reliable than other marketing efforts as well as being more economical. Brands will also encourage customers to drop ratings after using their products and services.
Micro-Influencer Marketing
The trend of people trusting other people who have used the products or services will also shape influencer marketing. Influencer marketing will no longer be about getting popular people to promote brands. More brands, especially small businesses will focus on getting micro-influencers to promote their brands. These micro-influencers will be able to speak the language that prospective customers understand.
They should also have used the products or services of the company. Some brands may even decide to use existing customers instead. Since existing customers have knowledge of the brand, their promotion will be genuine and authentic. No one can talk about the WooCommerce Whatsapp Order better than someone who has used it on their eCommerce website.
Branding
Stats show that businesses that leave impressions on people are most likely to get more recurrent patronage, compared to those that don't. However, it takes consistent branding effort to leave an impression on people. Branding efforts are one of the latest trends in digital marketing. Small businesses will focus more on showcasing their values, mission and vision in their promotion efforts.
Advertisement and promotion will go beyond just creating awareness. It will be more of a consistent and gradual process focused on long-term goals. Brands will also go beyond advertisement and promotion in their branding efforts. There will be serious and conscious efforts to improve the quality of products and services delivery.
Technological Immersion
Technology is already playing a crucial role in digital marketing. It will continue to do that and digital marketers will incorporate even more technical assistance into their marketing efforts. The use of artificial intelligence will most definitely increase. Chatbots and other AI-powered tools will be used. Digital marketers will schedule more of the repetitive digital marketing efforts.
One interesting thing however is the scheduling of bids for advertising spaces. Instead of manually bidding for ads spaces, digital marketers will be able to use tools to schedule bids for ads spaces. 
Trends are coming and trends are going, some of them stay and some of them are leaving us quickly. Living in a digital environment will teach us more and more to attract people to use digital channels and make sure to advance their content to engage on a different level. Emotion selling over digital channels got much easier and personalization is key to success in 2021.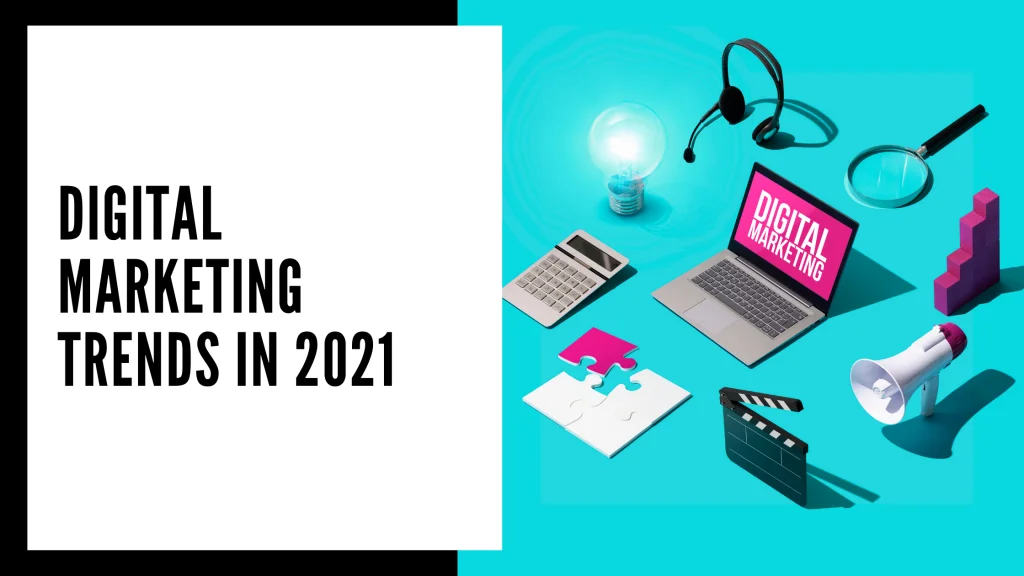 Personalized Communication
In terms of communication, digital marketing gas greatly improved. Messaging went from using generic terms and generic communication to using specific terms with generic communication. These days, communication in digital marketing involves using specific terms, specific communication, and specific data about each customer.
With big data tools, businesses will be able to identify each customer and communicate specifically with them. It will be as though that customer is the only one that the brand is communicating with.
Multimedia Marketing
Content marketing is set to take a twist in this current trend. It will go beyond the use of words and one or two images. Trends have seen content evolve into written content supported by audio podcasts and YouTube videos. There are currently tools that can convert videos into audio that can be shared as podcasts.
The length of Video marketing videos is key, to grab the attention of the audience the length should not be longer than 15 seconds. 
Besides audio tools, digital marketers will also convert videos to written content or make video versions of written content. The essence of these conversions is to help eCommerce websites properly promote their businesses on different platforms. What works on one medium may not work on the other.
Image and Voice Search
The reason why content is evolving is due to the manner in which web users search for content. Most web users access the internet using their mobile phones or smartphones. These "smart" phones offer many features that make it easier to access the internet. One of such is the "voice search" feature. This feature allows smartphone users to search for solutions on the internet using voice notes instead of typing keywords.
Web users are also searching for solutions on the internet using images, especially if they do not know the objects in those images. Digital marketers will incorporate more long-tailed keywords into the content. Images included in the content will be purposeful rather than fancy.
Social Shopping
The days when customers had to register and shop at an eCommerce store is fast becoming a thing in the past. The latest digital marketing trends will see web users shop through any medium that suits them best. One of such is through social media. Customers will be able to shop directly from social media platforms. This will be just as good as shopping directly from an eCommerce store and get an invoice of payment.
Digital marketers will use tools like the Woocommerce Composite Products to enable customers to shop on WhatsApp. Instant messaging platforms like Facebook messenger will also serve as means of buying and selling. Facebook already operates its own eCommerce version where businesses can showcase their products and services. Online store owners will incorporate social media to promote their eCommerce business.
Geo-Fencing
Local search is nothing new. However, it will continue to dominate. Search results will provide according to the location of web users. Web-users will only have to input their location if they are searching for solutions in a different location.
More digital marketers will register and create profiles at various online directories. They will also buy domain names at the location of their target audiences. If they want to sell to customers in Canada, they will buy a .ca domain name.
Traffic and customer satisfaction is the bone of every eCommerce business. Following these 9 trends mentioned above will help you to get more traffic and properly satisfy your customers.
Junaid Ali Qureshi is an ecommerce entrepreneur with a passion for emerging tech marketing and ecommerce development. Some of his current ventures include Progos Tech (an Woocommerce plugin), Elabelz.com, Titan Tech and Smart Marketing.