Ranking in Google search engine and being best optimized for SEO is today essential for presenting yourself digitally to your potential clients and customers. Small tricks have a large impact and one of them is moving your website from HTTP to HTTPs.

Skillz Middle East makes Digital Transformation happening for your company. We focus on the quick win to ensure Digital Marketing, e-learning, Web Meeting, Web Conferencing, Digital Signature, Digital Asset Management are ready to enhance your organization. Digital Marketing shall save money and bring a more efficient conversion for your brand and products.
It is already a couple of years ago, to be exact it was in 2014 when Google made the announcement.
Google

 has announced it will give sites using encryption a higher rank in its search algorithms. Particularly, it singled out 

HTTPs

, which it characterizes 

as

 "industry-leading security." 
With the launched the version 68 of its Chrome browser Google started to label HTTP websites as "Not secure", with further changes to how the browser treats HTTP and HTTPS pages on the horizon.
We arrived in 2019 and it seems not all websites have moved to a secured SSL/HTTPS yet. 
More than one-half (51.8 percent) of the one million most visited websites worldwide now actively redirect to HTTPs, the secure version of the HTTP protocol over which data between a device and a website is transmitted.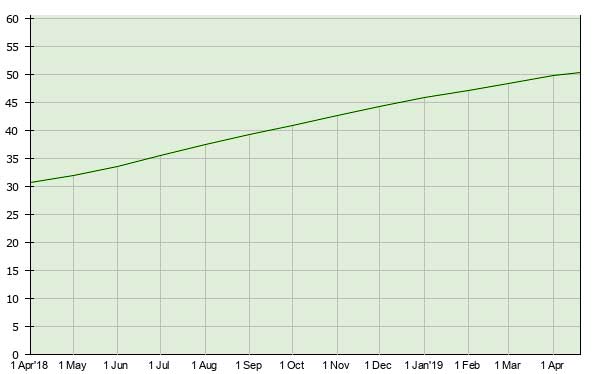 Usage of Default protocol https for websites, 20 April 2019, W3Techs.com
This diagram shows the historical trend in the percentage of websites using Default protocol HTTPs.
Why does Google do this?
SSL gives the site visitor and bigger security when it comes to his personal information. Marketers are collecting visitors statistics to understand the user journey and react better to their interest. Gaining this information allows marketers to serve visitors with the most relevant experience, they collect personal information like name, email address and other information.
When the site is protected with a Secure Sockets Layer (SSL) or HTTPs we can assume the data can't be hijacked. In a lot of cases, you might shop online and share even your credit card details. So if a site is protected with SSL it means to Google and its users (who search for information) that they can safely serve on the site, users can trust Google to serve them secure sites.
The "S" stands for "secure", which means that all communications passing between a visitor and a web server are encrypted and, as a result, safe from prying eyes while in transmission. On the flip side, it does not automatically mean that the site can be 100-percent trusted, as even a site with HTTPs can be malicious.
Are you already protecting your users on your website with a safe serving experience? Read more in the infographic "HTTP to HTTPs A Visual Guide Keeping SEO in Mind [Infographic]" below which was created by PageTraffic.