Digital transformation is the change associated with the application of digital technology in all aspects of human society which, as we all know, is heavily relied on in this day and age. Making a digital shift benefits an organization's overall productivity, environment and legal efforts, and time to market.
Digital Transformation keeps organizations busy with challenges. I help them to understand it first and then build the right strategy for their business.
More Links
Entrepreneur: The Changing Face Of Digital Transformation, Click Here.
The Economist: Richemont, the world's second-biggest luxury firm, bets on digital, Click Here.
i-scoop: Digital transformation: online guide to digital business transformation, Click Here.
For the purpose of this article, I have decided to talk about four different aspects involved the process of an organization's digital transformation focusing on traditional methods and comparing them to the new. The four points can be seen in the illustration below.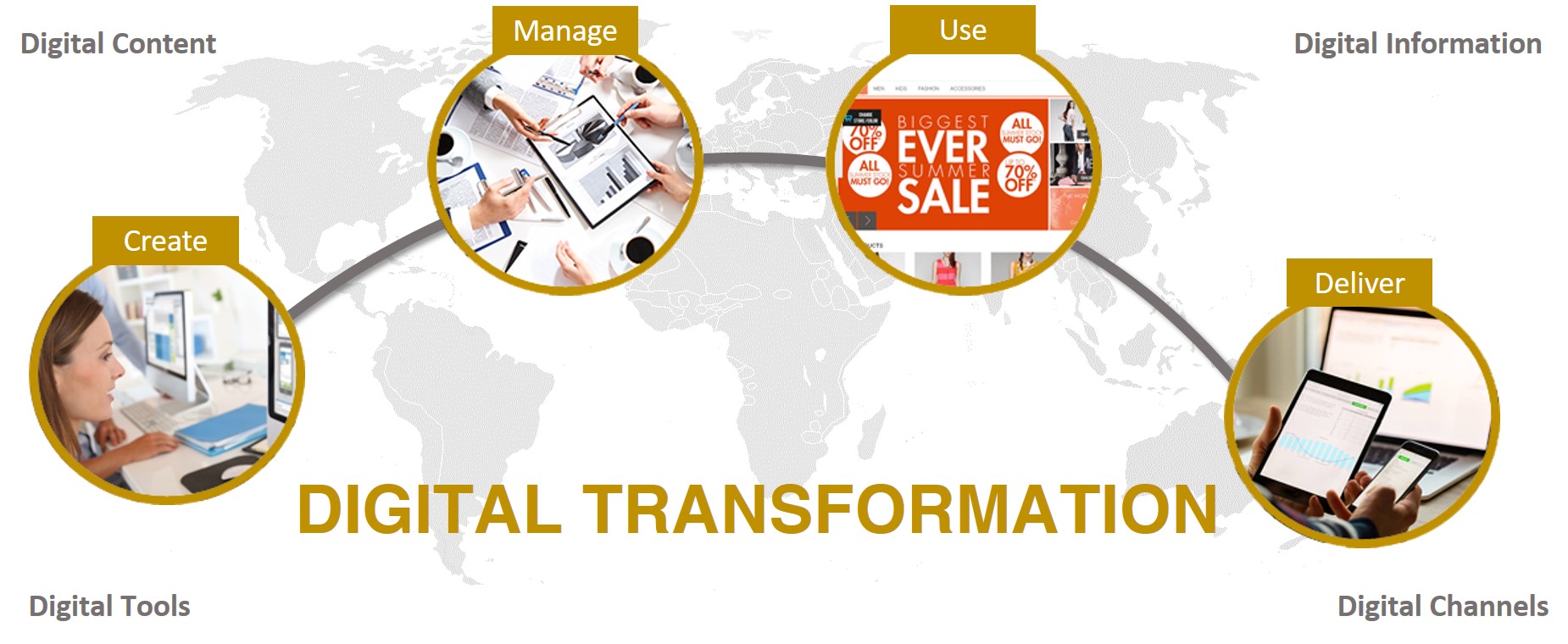 Create
Creative tools and elements are key to the success of your brand. In the past, an organization's brand was represented through their logo, packaging, and maybe an advertisement on television, radio, or printed media. Today, businesses need to continuously push content out through as many consumer touchpoints as possible. This could be from the screen on your laptop to a bumper sticker on the back of your friend's car. With the help of multimedia tools like Adobe or even a paper notepad, PowerPoint Presentation, or an excel document, organizations are able to do so. You can have a big digital marketing budget however without appealing content, your efforts won't go anywhere. Good content boosts your SEO, gets shared on the web through social platforms, informs your audience, and most importantly drives consumers to your organization, both online and offline, in order to convert them.
Manage
The management of your digital components is key to your organization's successful journey. Digital assets (images, videos, rich media files, etc.) can be worth millions yet there are still companies storing and managing these assets with hard drives or basic cloud-based tools. Something like a Digital Asset Management System (DAM) is an effective solution for an organization to store, organize, find, retrieve, effectively utilize, and share digital files.
It gives their brand story a home base where they can efficiently manage and centralize their data.
Here's a test, go and ask your graphic designer to bring up a picture that was taken for the company and see how long it takes him/her to bring it up… that's costing the organization time, and time is money! Keep your digital assets safe and secure with a proper management system.
Use
What if you don't know how to effectively drive all your marketing efforts? The term "omnichannel" is important to know because of a shift taking place when it comes to your organization's overall presence, both online and offline. Marketers need to give consumers a seamless experience throughout their touchpoints, regardless of channel or device. This could be through a company's online store, its social pages, magazine, physical store, or even an app.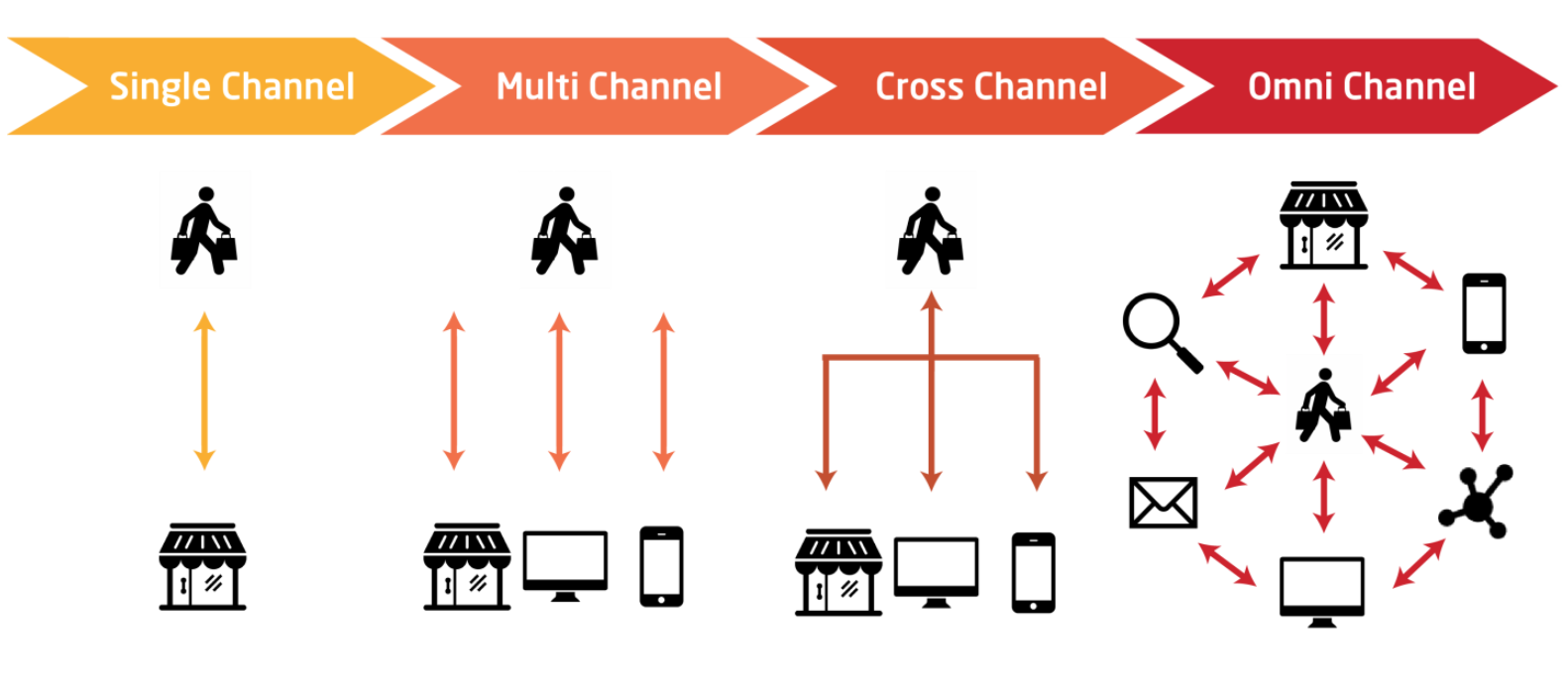 In the digital age, it's a lot easier to understand your target audience. By using certain tools you're able to find out information on your consumer, their buying behavior, age group, interests, gender, etc. In the past, it wasn't as easy to measure a marketing team's ROI but today with the right use of tools, you can. Use your analytics to ensure personalized content, messaging and offers. In terms of cost saving, knowing and granulating your target audience down can be extremely beneficial and simplify your marketing efforts.
Deliver
It's shocking how companies still haven't optimized their website on devices other than a desktop considering that 65% of consumers start their journey on a smartphone (based on a study from Telco 2.0 Research).
Whether it comes to a tablet, desktop, smartphone, or billboard, your content and presence needs to be optimized. It is also important to consider the right coloring, positioning, location, size, etc.  Today, organizations are able to engage and create a dialogue with their audience so take advantage!
To Wrap it Up
When planning for digital transformation organizations must consider cultural changes they will face while their workers and leadership adjust to adopting and relying on unfamiliar technologies. Create, Manage, Use and Deliver the right Content and Information with the right Tools through the right Channels. Each aspect holds its value in the entire process of your digital transformation. There are experts in the market, like Skillz Middle East, who aid organizations in the selection and implementation of these solutions with the end goal of efficiently increasing production and ultimately saving costs.