Looking back on the Google Hyper connected user I ask everyone I work with, "In which phase is your organization in the sales cycle with your clients. In which phase do you think is Social Listening most important?"
Skillz Middle East makes Digital Transformation happening for your company. We focus on the quick win to ensure Digital Marketing, e-learning, Web Meeting, Web Conferencing, Digital Signature, Digital Asset Management are ready to enhance your organization. Digital Marketing shall save money and bring a more efficient conversion for your brand and products.
Key Takeaways
Pemper your loyal customer

Use emotions to drive conversation

Reputation is key for success

Use bait to gain loyal customers

Don't do it yourself, use tools
Of course when I ask the question I have already an idea where they think they are. But the truth hurts most of the time and nobody is in the clear position to say it in one shot. Otherwise nobody would require help. So if you feel you are building your existing client base to an influencer and advocate community, then you are right, Social Listening is for you one of the most important elements.
Does this mean in the staging of acquiring new customers or see what are the buying decisions they are looking into is not important? No but in this phase we might see different aspects. Never the less let's see what are maybe the wrong objectives for organizations to listen to.

 What is my competition doing?

 Do people like me more than my competitor?

 Do people purchase more from my competitor?

 Comparing the numbers, I am still ahead of my competitor, i am doing better
Well on the punchline let's phase it, did you see anyhow in one of the above messages how much actual was earned more? How many percentage of growth happen to your product, service sales? No, I feel  mission not accomplished it looks for me like not going into action, but out of 10 meetings I meet 9 clients doing exactly the above.
So let's ask ourselves, what would be right question we would like to have anwsered?
Well they are so many, where to start … but let us look into some of the things we can really do good with Social Listening.
The loyal Customer
Business owners love the idea of making all customers loyal customers. But, in reality, fostering true customer retention is about as easy as Donald Trump giving a soft-spoken speech: You think it's probably within the realm of possibility, but it's unlikely.
The importance of customer retention vs. customer acquisition can't be overstated. Most companies tend to focus on new customer acquisition, when in reality the cost of retaining customers is a mere fifth of that which it costs to obtain new customers. And, increasing customer loyalty by just 5% can yield a whopping 25%-95% increase in profit, thanks to social listening we could change the game!
Social listening, also known as social monitoring, has become an essential way for businesses to help create customer loyalty in a whole new way. Social media is the mountaintop from which your consumers shout, whether to praise or vilify. And, if they're talking about your business, you can bet your bottom dollar you don't want to miss it.
The reach of a positive social post gone viral is almost invaluable, and a proper (if necessary) response to a negative social post can be the best marketing you never paid for.
Don't wake sleeping dogs is an old saying, which means nothing else than talking bad about other products or competitors which some other people might not even have known so far, makes them take a closer look and oversee what you can offer.
Here are four ways you can keep your head in the game and harness the power of social listening to stay at the forefront of your customers' minds.
1. Be more flexible and respond in lightspeed
We are in the age of lightning-fast technology, and our patience is MIA. By the time someone posts an inquiry on social media, he wants the answer… yesterday.
How impressive, then, for a company that's hip to social monitoring to hop right on and immediately offer an answer to a question, a solution to a problem, or, better yet, a link to everything the questioner ever needed (your website). And don't forget: Others will also see your social responses.
That's how you can acquire and retain customers in one fell swoop. Facebook even notes on business pages how fast (on average) the business owner replies to messages: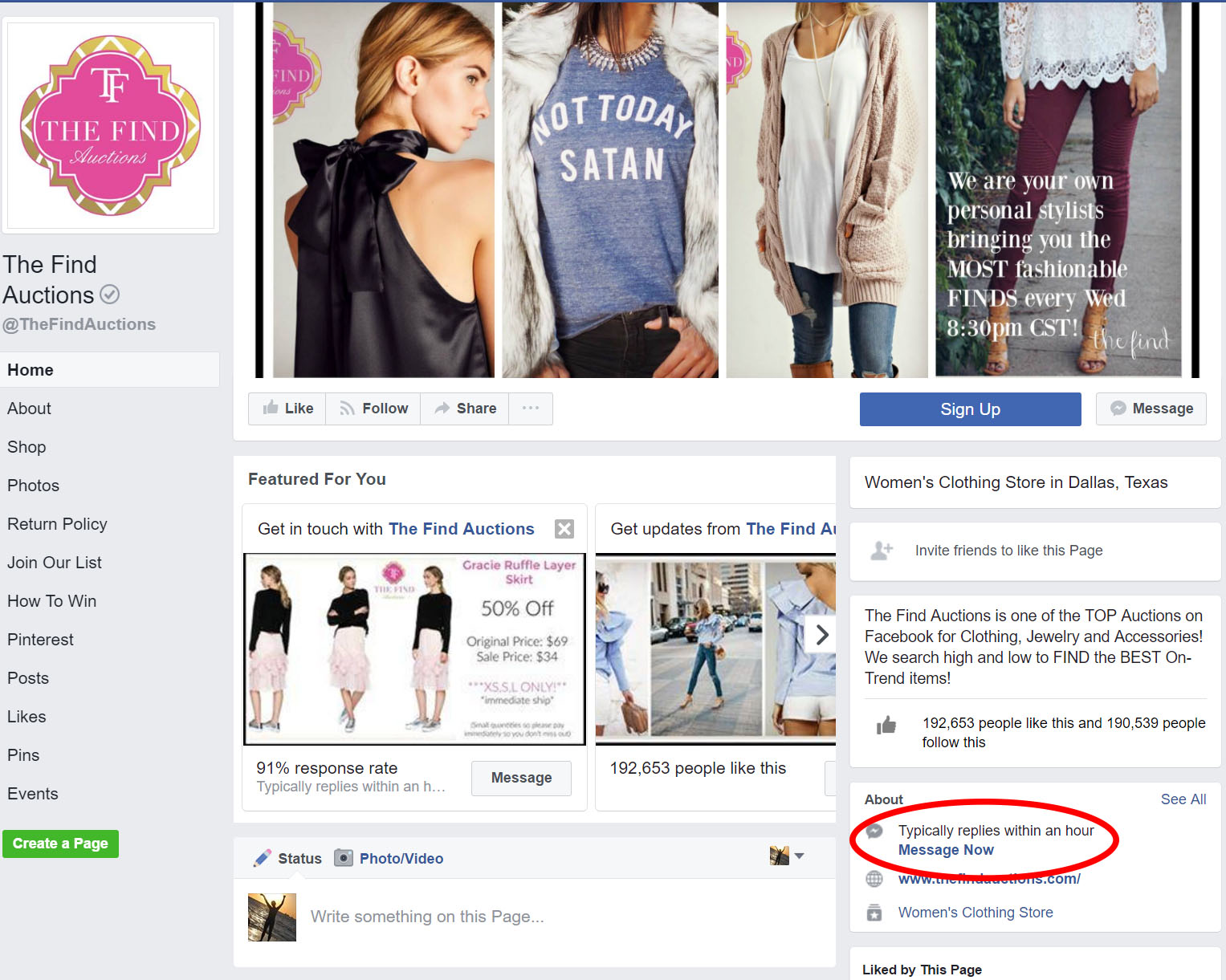 A customer feels valued and confident in your competency if you are quick to communicate. Customers wouldn't hesitate to message
The Find Auctions
on Facebook upon seeing they'd likely to get a quick response from the company.
2. Use 'bait' to cultivate loyalty
Mention how much you love us on social media? Have some reward points! Give us a raving review online? Have some bonus bucks! Brag about us on your blog? Here's a coupon code!
What some might call bribing, we call giving incentive. Think "checking in" to your store on Facebook for a 10% discount. Another commonly used tactic is prompting fans to share, follow, or like your page on social media in return for a chance to win a contest to find out what your audience loves to have as freebie, just use social listening, not everything fits for everybody.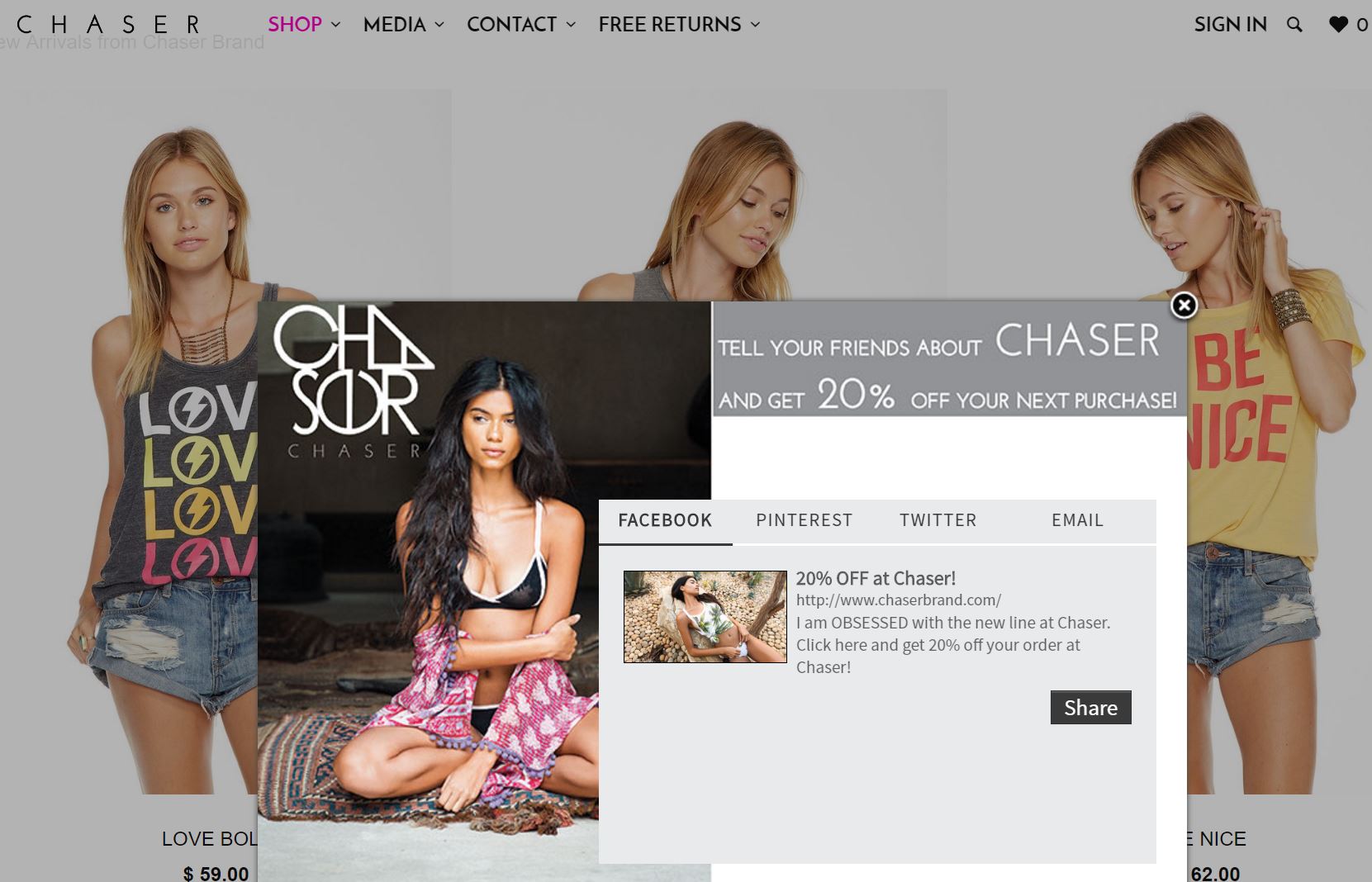 Chaser
, a contemporary clothing and fashion-forward apparel brand, provided incentive to site visitors to encourage them to refer the brand to family and friends via social media and email.
3. Emotional engagement is mandatory
Think about it. The more someone positively engages with you and your personal posts, the more often you think of them and the more highly you regard them. It works the same way with your customers. If they know you're thinking of them, they will most certainly be thinking of you, too.
The most common thing is that comments and nodes keep on our social wall unattended, what a miss, you violated the golden rule of social listening and conversation. Do not miss your cusotmers notes.
In only the most genuine ways, emotionally connect with your customers. Like (or "love," or "haha," or "WOW") their photos. If they comment on your post, reply back in a personal way. If you get an item in stock you just know they'll love, reach out and let them know. Be their friend: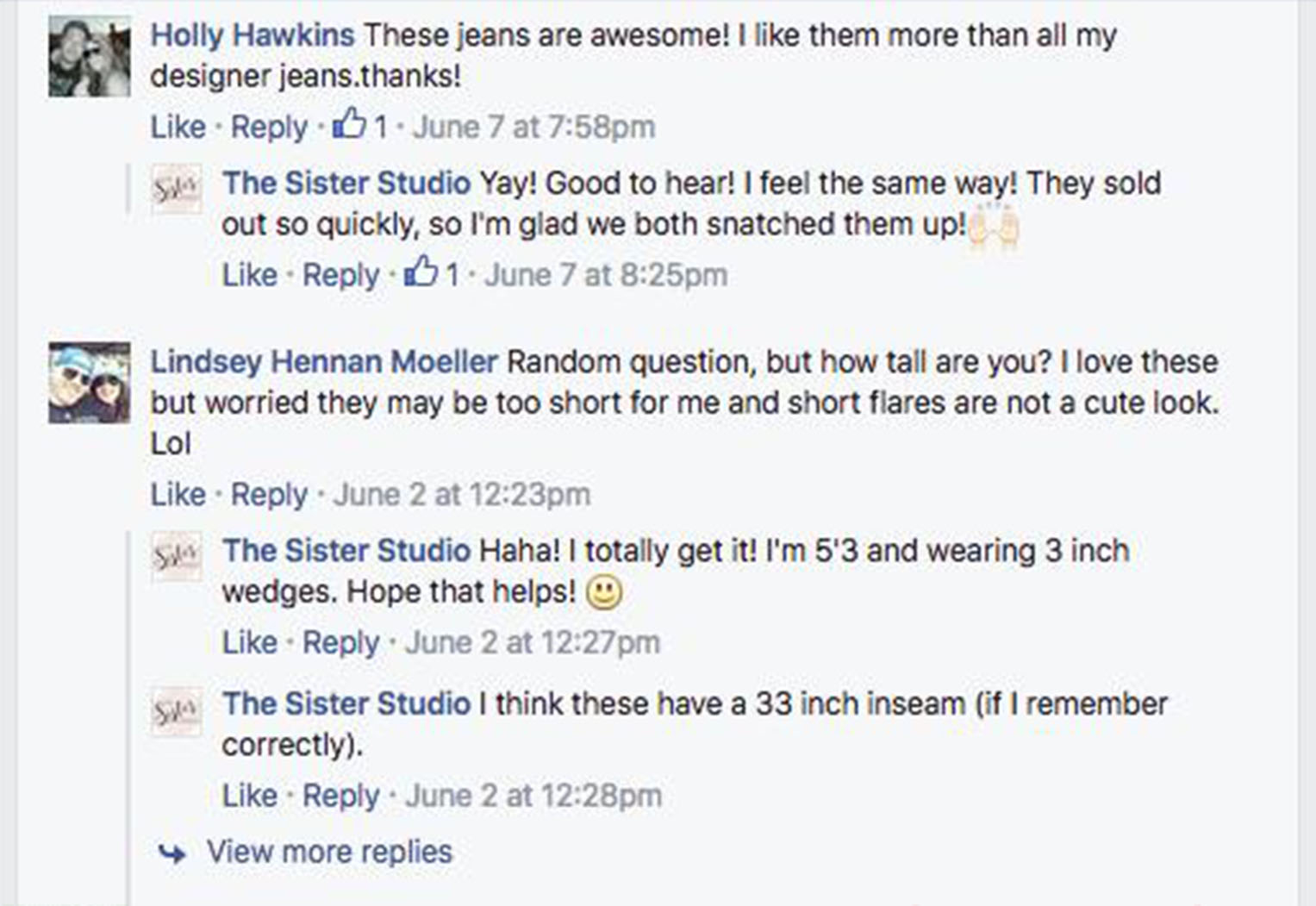 The Sister Studio
is great about giving genuine, personal replies to every question or comment on its social media posts.
4. Understand your customers well
If you make it a point to listen to your customers on social media, you will have a strong understanding of what they are wanting, needing, feeling, and shying away from. You will become more adept at catering to the current trends in your niche if you are studying your customers from a social perspective.
People tend to speak their mind on social media, and it's an opportunity to meet them where they are. They are sure to remain loyal to a brand that always seems to have their best interest in store. Let them know you're listening. Acknowledge their thoughts, ideas, and suggestions, and make use of those suggestions whenever you can—then tell them that you did!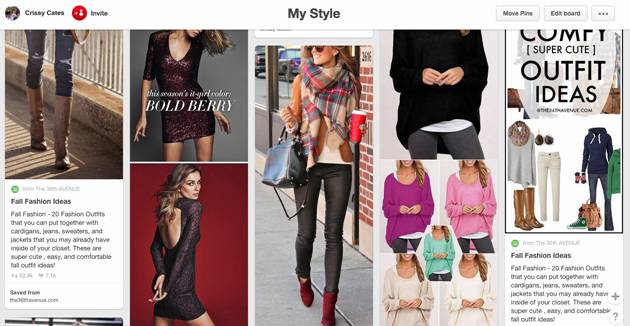 A great place to listen to your customers is Pinterest, where people "pin" their favorites among the latest and greatest trending items.
Use one of the tools
Now that you're ready to take your social listening mission to the next level, make sure you're familiar with the following user-friendly tools to keep you afloat in the vast ocean of social networks.
Just type in a brand, name, phrase, etc., and these sites will notify you when you need to be informed, keep you aware of your competition's latest moves, or keep you abreast of current market trends.
These are some of the most popular social listening tools and how they describe themselves; try them to determine which work best for you:
Adobe Social: "Part of the Adobe Digital Marketing Cloud is makes your feel you are on top of everything you want to know"
Tweetdeck: "The most powerful Twitter tool for real-time tracking, organizing, and engagement. Reach your audiences and discover the best of Twitter."
SimilarWeb: "Discover your competitors' website traffic statistics."
Keyhole: "Track hashtags, keywords, and URLs in real time."
Commun.it: "Helps to prioritize your social media presence."
Google Alerts: "Monitor the Web for interesting new content."
Mention: "People are talking. Find them and join the conversation."
Followerwonk: "Helps you explore and grow your social graph."
Talkwalker: "Find actionable insights using advanced social media monitoring and analytics."