Adobe AEM (Adobe Experience Manager) is an advanced Content Management Solution for building websites, mobile apps and forms as well as simplifying marketing content and assets management.
Leader in web content management
Adobe AEM (Adobe Experience Manager), an industry leader in web experience management, enables organizations to create, manage, and optimize digital customer experiences across an increasingly fragmented number of channels including web, mobile apps and sites, and social communities that build brand loyalty and drive demand.
Deliver next-generation digital customer experiences across online and in-person interactions.
Learn more about Adobe AEM by watching the informative video below and feel free to throw in any comments or questions you have in the comment section below.
To
Request a Quotation
or if you wish to speake to an adobe specialist regarding your business' interest in Adobe Experience Manager, feel free to
Contact Us
 at any time.
Business challenges
According to a recent Forrester Research report, "digital experience priorities must quickly evolve to keep up with fast-paced or fickle customer expectations….Given the frantic pace of digital, organizations invest
or are left behind."
This observation is coupled with evidence that organizations are struggling to keep pace—in fact, just one in three marketers think their companies are highly proficient in digital marketing.
To meet these challenges, businesses must invest in new technologies and processes, and to win, they have to be agile, adaptive, and innovative. Yet most systems and workflows for managing and publishing
online content do little to accelerate time to market and are ill-equipped to serve the needs of marketing to interact with multi-channel consumers. Moreover, personalization tactics are not consistently deployed, if at all. And once the campaign or website is launched, responses and interactions are not rigorously measured and analyzed, resulting in missed opportunities to improve and refine the user
experience for maximum conversion and retention.
The solution
Adobe Experience Manager enables marketers and developers to design, manage, and deliver customer-facing digital experiences across all interaction channels including web, mobile, social, video, and in-store.
More than 2,000 of the world's most recognizable brands, including Audi, Hyatt, Condé Nast, and TE Connectivity, use Experience Manager to accelerate their ability to create a digital presence that increases customer loyalty, engagement, and demand.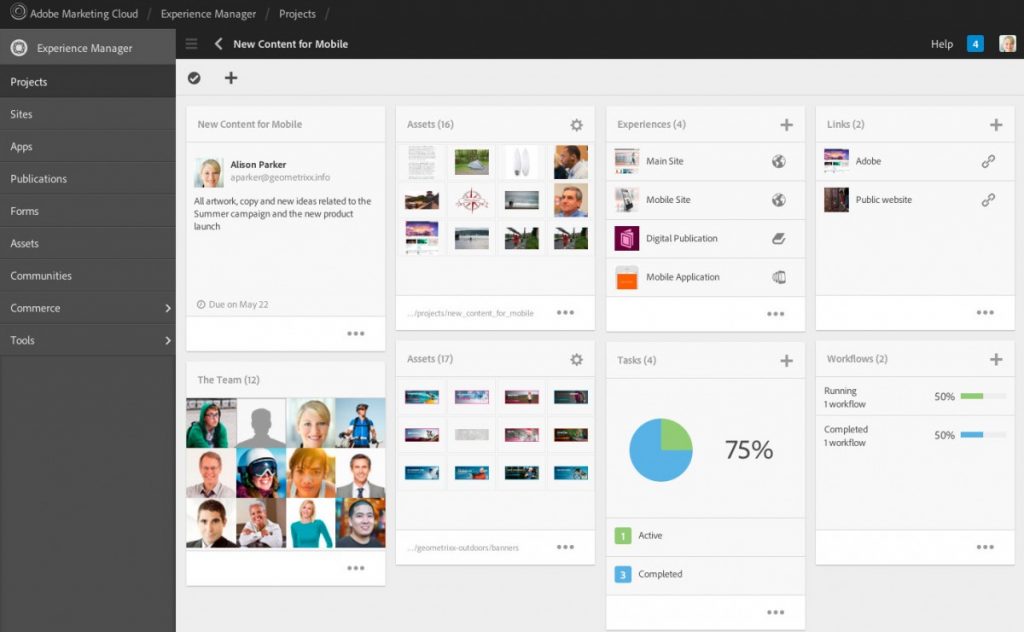 Adobe AEM is part of Adobe Marketing Cloud, does so by helping organizations to:
Easily manage and build rich websites and mobile sites as well as in-store and on-site experiences.
Experience Manager industry-leading web experience management enables marketers to easily author, manage, and deliver digitally immersive sites that are optimized for desktop, tablet, and mobile devices.
Approaches supported include responsive design and adaptive mobile sites. Management of multiple sites is made even simpler and more effective with support for machine translation and new content insight dashboards. An open approach to commerce integration means marketers and commerce managers have the most flexibility in supporting experiences that ultimately lead to purchase.
Host, manage, and deliver rich digital assets across all marketing channels. Most digital asset management solutions focus on the storage of assets, this in itself is not very useful.
Experience Manager assets for digital asset management is built with the multi-channel world in mind, so it also addresses the challenges of asset delivery to different devices, over different connection speeds and audience segments. Video assets are critical to the modern marketer.
Experience Manager assets support video assets with ease, enabling streamlined reviews with in-context annotations and automated encoding to support different bandwidth needs across devices. Synchronization and sharing of rich assets across
Experience Manager assets and Adobe Creative Cloud reduce the time from idea to delivery to customer impact like never before.
Time for a deep dive, contact our team or look at the product page, Skillz Adobe AEM (Adobe Experience Manager).