Forrester's research uncovered a market in which Adobe, Aprimo, and OpenText are Leaders; The Forrester Wave Digital Asset Management For Customer Experience, Q2 2018; MediaBeacon, Bynder, CELUM, Nuxeo, Widen, and Northplains are Strong Performers; and Cognizant, Stylelabs, Canto, and Webdam are Contenders.
Skillz Middle East makes Digital Transformation happening for your company. We focus on the quick win to ensure Digital Marketing, e-learning, Web Meeting, Web Conferencing, Digital Signature, Digital Asset Management are ready to enhance your organization. Digital Marketing shall save money and bring a more efficient conversion for your brand and products.
Application development and delivery (AD&D) look for scalability and integrations. The digital asset management market is growing because more AD&D professionals see content organization and delivery as a way to address their top challenges. Organizations and not anymore process orientated, they are more content orientated which makes it to the point. Content is king, long live the king.
This market growth is in large part due to the fact that AD&D pros increasingly trust Digital Asset Management providers to act as strategic partners, advising them on top content decisions.
Work In Progress, Marketing Support, And Usability Are Key Differentiators
Improved support for work in progress, marketing, and usability differentiates the top products over the last years. Vendors that provide superior capabilities in these areas position themselves to successfully deliver a differentiated experience to their customers, summarizes Forrester on the front of their report.
The 13 Providers that matter most and how they stack up
In the report "The Forrester Wave Digital Asset Management For Customer Experience, Q2 2018", Forrester highlights 13 vendors and goes into topics of brand management, how DAM solutions help during content creation, how DAM enables content reuse, and how development for content looks for omni- channel delivery in the age of digital transformation.
Special since a couple of decades digital transformation strategy and the omni- channel delivery has shifted from mobile first to online first.
Further, in the report, Forrester guides the reader on how to utilize the most out of the investment of a DAM solution. Key market trends are lightweight DAM functionality versus full enterprise integrated solutions. Leading vendors reacted and consolidated their market offerings like OpenText.
To preserve the investment key elements are looked into like:
Artificial intelligence adds value to content. Nearly every vendor in this evaluation had artificial intelligence capabilities baked into its platform
Analytics provide a more accurate picture of content ROI. Linking content to business value is a top challenge for marketers.
Support for video increases. Video is one of the most compelling content formats a brand can provide because it delivers information quickly and in an emotional medium.
Compound documents and 3D assets power content atomization. One-third of brands that want to improve their influence and reach in the market plan to change or improve their creative strategy.
To assess the state of the digital asset management for the customer experience market and see how the vendors stack up against each other, Forrester evaluated the strengths and weaknesses of top DAM vendors. Forrester evaluated vendors against 30 criteria, which we grouped into three high-level buckets, Current offering, Strategy, and Market presence.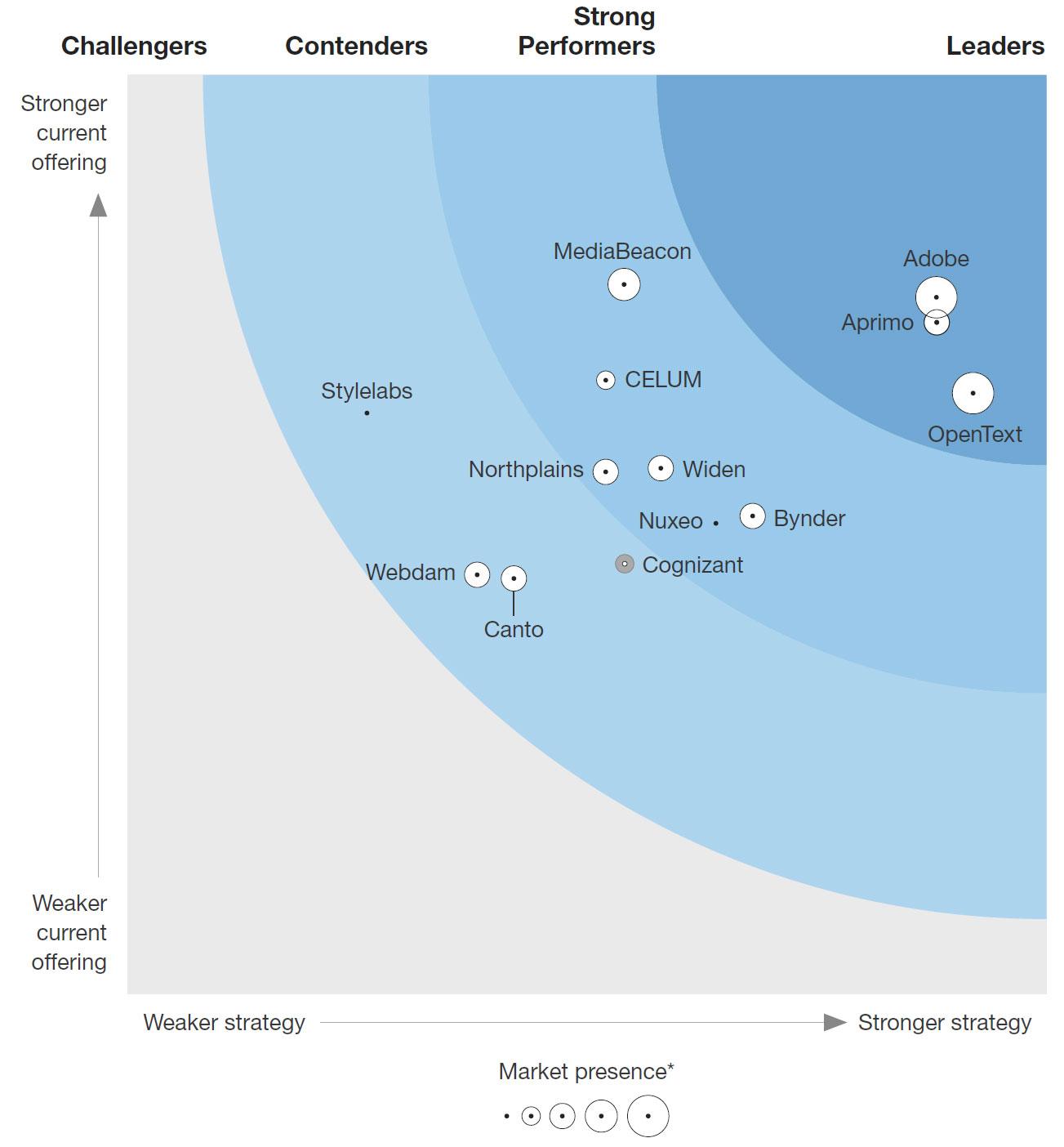 Graph: The Forrester Wave Digital Asset Management For Customer Experience, Q2 2018
Adobe, Aprimo and OpenText share the vision of the leaders and can position them ahead with a hight market presence on the site of Adobe and OpenText. In the report, Forrester summarizes the leaders.
Adobe excels in AI metadata but lacks commerce functionality relative to others. San Jose, California-based Adobe has one of the broadest portfolios in this evaluation; buyers already in the
Adobe ecosystem can reap additional value with the DAM solution. Adobe excels in offering trainable AI to surface business-specific metadata, which means, for example, that if you're a car maker, the AI could tell you the specific model rather than that it's a "vehicle." Adobe has mastered support for video and emerging content, like posing a 3D element in a scene. And it has improved its performance, but still suffers in search — according to reference customers — and lacks a strong story around commerce.
Aprimo expertly marries DAM and MRM but needs to work on usability. Chicago-based Aprimo bought ADAM Software in 2017. Aprimo stands out with a strong, scalable platform, according to reference customers. It has outstanding marketing support with robust native and integrated functionality in the areas of content performance analytics, content marketing, and marketing resource management. Aprimo is above par when it comes to supporting for work-in-progress assets, though it only offers workflow as an add-on module. Aprimo is weaker relative to others in this evaluation for usability and user interface, which received negative feedback from reference customers.
OpenText has strong core functionality but slips on integrations. We evaluated Media Management from Waterloo, Ontario-based OpenText (it no longer sells MediaBin). OpenText excels in core library services functionality with some of the best search functionality in this evaluation. It also has solid marketing support in areas like marketing resource management and analytics. While it provides deep enterprise platform integrations in areas like WCM, commerce, and campaign management, its reference customers report some difficulty, particularly with campaign management.
Skillz Middle East is since many years solution partner for Adobe Experience Management DAM and OpenText Media Management implementation. Beside the enterprise offerings reviewed in the report, "The Forrester Wave Digital Asset Management For Customer Experience, Q2 201", from Forrester, we see in the middle market's vendors like Asset Bank and Pixelpark which offer in a departmental environment more flexibility. The question here is not the complexity of an organization or if brand management is key to drive an enterprise DAM implementation.
We focus to achieve a valuable TCO and ROI by looking into factors of the number of assets, type of assets, owners of assets, origin, usage rights, and their distribution across organization borders or how they travel between departments.
Contact our team for a free assessment session and book a meeting to speak to our experts.
Contact Us
Get Into Action, call our experts today, Dubai - UAE +971 56 101 24 80 or send an email to info@skillzme.com or request a callback