Happy Birthday iPhone, it is already 10 years ago when Steven Jobs presented the iPhone to the fan community at the MacWorld. Between this 10 years, we experienced innovation, emotions and frustration the same way as living another life.
Skillz Middle East makes Digital Transformation happening for your company. We focus on the quick win to ensure Digital Marketing, e-learning, Web Meeting, Web Conferencing, Digital Signature, Digital Asset Management are ready to enhance your organization. Digital Marketing shall save money and bring a more efficient conversion for your brand and products.
"Well, today, we're introducing three revolutionary products of this class. The first one: is a widescreen iPod with touch controls. The second: is a revolutionary mobile phone. And the third is a breakthrough Internet communications device." Those were Steve Jobs words when he revealed the first ever iPhone at the MacWorld conference on January 9th 2007.
Of course, Jobs wasn't referring to three different products, but to the iPhone which combined all three functionalities. Few expected the impact this product would have on society: the iPhone introduced smartphones to the masses. In fact, Microsoft's Steve Ballmer was convinced that the Apple smartphone wouldn't sell as well as it did.
This chart shows selected data on smartphones and the iPhone – but let's not forget the cake to cut, Happy Birthday iPhone.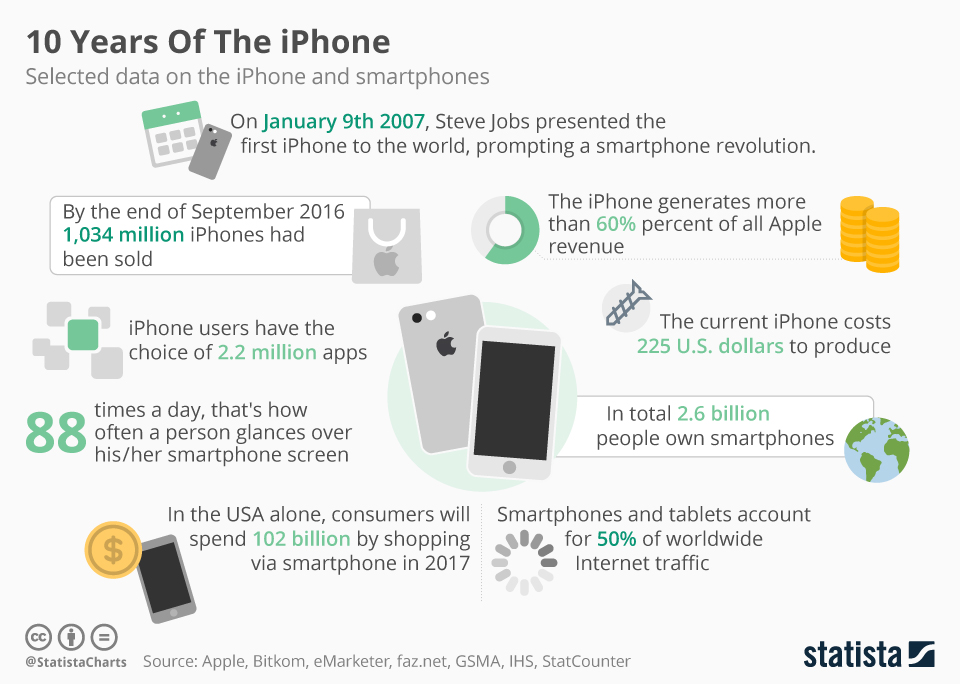 How times change: Original iPhone vs iPhone 7
Since we say this year 10th Happy Birthday iPhone we shall look into head-to-head of iPhone first generation and iPhone7, how far we've come in the past 10 years.
The original Apple iPhone went on sale in the US, six months after Steve Jobs took centre stage at MacWorld 2007 in San Francisco to introduce it to the world.
At the time, the then-revolutionary smartphone was touted as "a widescreen iPod with touch controls and a revolutionary mobile phone and a breakthrough internet communications device" and arguably went on to pave the way for the thousands of smartphones battling it out in the smartphone market today.
To mark the original iPhone's 10th anniversary, we've put it head-to-head against the newest iPhone 7 to see how it stacks up in 2017.
Design
iPhone: 115x61x11.6mm, 135g
iPhone 7: 138x67x7.1mm, 138g, IP67 certification
Looking back at it now, the original iPhone is a bit of ugly duckling. Huge bezels surround the top and bottom of its display, a chunk of black plastic coated the bottom rear of the handset, and it's a pretty chubby device, by today's standards at least, at 11.6mm thick. Saying that, it's surprisingly lighter than the iPhone 7 at 135g.
The iPhone 7, like the original, is also crafted from metal, although the plastic back panel has been replaced with subtle antenna lines that surround the handset and the bezels have been put on a diet. The 3.5mm jack has been controversially removed, though, although Apple has increased the handset's toughness with added IP67 certification.
Display
iPhone: 3.5in 320×480 resolution at 165ppi
iPhone 7: 4.7in 1,334×750 resolution at 326ppi
While at the time it was the iPhone's touchscreen that paved the way for the millions of smartphones that have since followed, it now pales in comparison. It measured in at a tiny 3.5in and packed a resolution of 320×480 that offered a pixel density of just 165ppi.
While the iPhone 7's resolution is still arguably lacking compared to the likes of the Galaxy S7 it's now miles ahead of its 10-year-old sibling, at 4.7in with a 1,334×750 Retina resolution.
Display system
iPhone: iOS
iPhone 7: iOS 10
The iPhone shipped with the first-ever version of iOS and was upgradable to iOS 3.1.3. The dated OS shows its age, it's textured design taking cues from real-world objects, a far cry from the flat design seen in iOS 10.
Saying that, while some apps such as 'iPod' have since been binned, there's still a sense of familiarity between the OS seen on the original iPhone and the iPhone 7, and everything remains where you'd expect it to be.
Of course, iOS 10 offers some major upgrades that you won't find on the original iPhone, such as 3D Touch, lock screen widgets and even an app for controlling internet-connected gadget around your home.
Internals
iPhone: 32-bit 412 MHz Samsung ARM processor, 128MB of RAM, 4GB or 8GB storage
iPhone 7: A10 processor, 2GB RAM, 32GB/128GB/256GB storage
At the time, the iPhone was seen as a game changer, with its original A series processor and 128MB of built-in RAM. We've come a long way since with, with the iPhone 7 packing what Apple is touting as the "fastest mobile processor" on the market, coupled with 2GB RAM.
We've come a long way when it comes to storage, too. The original iPhone launched with a choice of either 4GB or 8GB built-in storage, with Apple later introducing a 16GB model. The iPhone 7, on the other hand, is available with a choice of 32GB, 128GB or 256GB.
Cameras
iPhone: 2MP fixed-focus camera
iPhone 7: 12MP rear-facing, f/1.8, OIS, 7MP front-facing
Oh, bless it. The original iPhone's 2MP fixed-focus camera hasn't dated particularly well, especially when compared to the 12MP rear-facing camera seen on the iPhone 7, complete with its built-in autofocus, optical image stabilization and ability to capture 4K video. There was no front-facing camera, either, while the iPhone 7 packs a new 7MP lens.
Battery
iPhone: 5 hours of talk-time
iPhone 7: 1,960mAh
Apple never specified the size of the battery inside the original iPhone but promised that it would get users five hours of constant talk time from a single charge. Thanks to the numerous battery tech breakthroughs made over the past 10 years, the iPhone 7 has upped this to 14 hours.
In short
Happy Birthday iPhone, comparing the original iPhone to Apple's latest and greatest perhaps highlights how far the smartphone market has come in the past 10 years, be it in the area of camera, display, processor or battery technologies.
To mark the iPhone's 10th anniversary, Apple is promising that the best is yet to come, so check back with us in, er, seven months time to see how it compares to the iPhone 8.
Share with us your personal thought to the 10th Happy Birthday iPhone, just comment below.