Have you ever wanted to learn a new language to help you travel the world or gain new career opportunities? See below the most spoken languages of the world in an interactive infographic.
Digital Marketing is not anymore like traditional marketing. In the era of digital transformation happening everywhere, marketers want a proof of their investment.
Dieter Hovorka
Did you know?
The Ethnologue catalogue of world languages, which is one of the best linguistic resources, currently lists 6909 living languages. About 6% of them have more than a million speakers each and altogether account for 94% of the world population, read more
This visual tool from Couponbox shows you the 10 languages which are spoken in the most countries around the world.
In the lead of spoken languages is, of course, Chinese followed by Spanish and English. In the top ten you can find languages like French, Arabic, Portuguese, German, Russian, Dutch and Malay.
Click on a language to show on the map where it is established and approximately how much time is needed to learn it.
Below the map, you can see calculations for the average cost to learn each language.
Cost of Learning a Language
Curious about what it could cost to learn any of these languages?
As a guide, we calculated the number of hours and cost per hour required to learn each language. As you can see, the difficulty of a language doesn't mean it costs more to learn. Even though it takes more hours to learn Malay than say, Portuguese, its cheap hourly cost makes it an economic choice.
For those of you who are really ambitious and don't mind spending money, Chinese is one of the most difficult languages and is by far the most expensive to learn!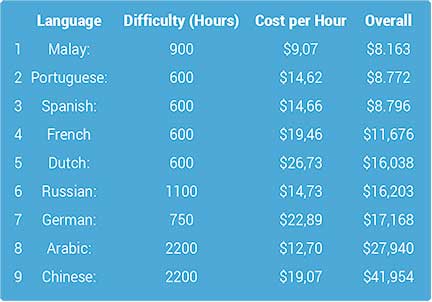 What is a Language ?
Language is the ability to acquire and use complex systems of communication, particularly the human ability to do so, and a language is any specific example of such a system. The scientific study of language is called linguistics. Questions concerning the philosophy of language, such as whether words can represent experience, have been debated since Gorgias and Plato in Ancient Greece. – WIKIPEDIA